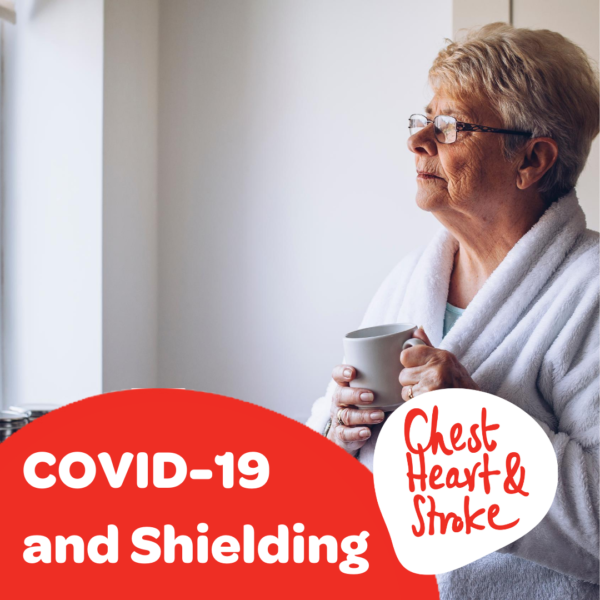 Back in March, thousands of people living with health conditions which could put them at higher risk of COVID-19 complications were advised to shield and stay at home to protect themselves. Since 31 July, shielding for these extremely vulnerable people has been paused.
What does this mean for you if you have a chest, heart or stroke condition and have been shielding? You can find all the information you need on this page.
There are still cases of coronavirus in Northern Ireland and across the world, which means the virus is still spreading. The virus hasn't changed either; it is still just as dangerous for people with certain health conditions if they catch it.

However, the Government have decided, based on scientific evidence and advice from the Chief Medical Officer, that for now, the number of cases and the overall risk of catching coronavirus has fallen enough for it to be safe for people with conditions to go out and about again.

Shielding has been paused - not stopped for good. There are no plans for shielding to restart right now, and it is possible it might not have to restart again if cases remain low. However, if the risk increases in future, shielding may need to restart again. The Government are monitoring the number of cases all the time and will make changes to protect people if and when they need to.

We understand that if you or someone you love is living with a health condition, it may be very worrying returning out into the world, especially if you have been shielding. It may be difficult to get used to the 'new normal', and you may be feeling anxious or upset about all of these changes.

While there is still some risk from Coronavirus, the risk is now considered to be quite low by experts and scientists. In many parts of life, there is some risk, and we must sometimes face some fear and a certain amount of risk in order to live life to the fullest. Many people who have had to learn to live with a chest, heart or stroke condition may feel they know this feeling all too well. However, that doesn't make it any easier.

There are some things you can do that might help you feel better able to manage and cope with these feelings, and there is support available to help you.

We are still caring through COVID for people affected by chest, heart and stroke conditions.

Click Here to find out more about how we can support you and your loved ones during and after COVID.

Other ways to get support:

Only do what you are comfortable with – if you're not ready to go out and about as much as you used to yet, that's okay. Take it at your own pace. Try small steps and build up to bigger goals. For example, you could try going out to an outdoor gathering or going to a small, quieter shop before you tackle larger restaurants or stores.
One benefit of lockdown easing has been being able to see friends and family again. However, different people may have different feelings and expectations around what is okay or what they're comfortable with. Try to talk to your family and friends about your feelings and your limits. If you are invited to a gathering, ask whether everyone will practice social distancing, or if the gathering could be held outside if this makes you more comfortable.
You can still order your shopping or prescriptions online or over the phone to be delivered to your home, or ask a friend, family member or neighbour to deliver it for you.
Many of us got used to new ways of keeping in touch during lockdown, such as by phone or on the internet and social media. You can still keep up using these ways of connecting if you'd like to limit the number of people you see face to face.
Try going out at times that are quieter when there may be less people around, for example early in the morning or in the evening, or try going to places that you think might be a bit more off the beaten track and so less busy.
Remember, if you do go out and feel it is too crowded, or you feel uncomfortable, you can always leave and try again another time. The most important thing is that you feel safe.
For more information on social distancing visit the GOV.UK website.

Employers have a 'duty of care' for staff, customers and anyone else who visits the workplace. In practice, this means taking all steps they reasonably can to support the health, safety and wellbeing of their staff.

If you find yourself unable to follow guidance on social distancing at work or during travel to work, first of all you should try talking to your manager or employer about the issue to tell them that you need to follow government advice and avoid these risks.

If you find that the issue continues, you can find more information and advice from the Health and Safety Executive for NI: https://www.hseni.gov.uk/

For more information about shielding, visit https://www.nidirect.gov.uk/articles/coronavirus-covid-19-pausing-shielding-extremely-vulnerable-people
For the latest information on coronrvirus and how we're still caring through COVID, sign up to our newsletter.