Benone Half Marathon and Challenge Walk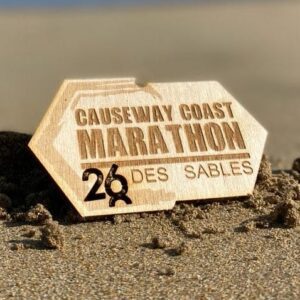 Sign Up Now
Date & Time:
Saturday 16th October 2021 - 10am
The Causeway Coast Benone Half Marathon is back for 2021.
This is your chance to run on undoubtably one of the top beaches on the Island of Ireland. It will be the Northern Irish take on a marathon des sables, with the entire course being run on sand, with the stunning vista of the Causeway Coast and Donegal.
For 2021 there will two event categories, the Half Marathon race or challenge walk.

The entire event takes place on the beach, including the start and finish. The exact details of start times and mass starts will be closely monitored in the lead to the event. The event organisers hope to have a traditional mass start at 10am but this will be subject to government restrictions.
The entry fee is £40pp for both theHalf Marathon race and Challenge Walk .

For more event info click here.


How to sign up
1.This is not a NICHS organised event so to take part you must enter online here.
2. Let us know you're taking part and fundraising for us by filling out the form below.
3. You'll receive an automatic email when your form is submitted and one of our team will be in touch shortly after that.

If you have any queries about this event please contact our Events team on events@nichs.org.uk or by ringing (028)9032 0184.