There are currently 335,000 people living with chest, heart and stroke conditions in Northern Ireland.
Join our Challenge 335 for the month of August and help support our Covid-19 Recovery Service.
Calling all you budding bakers! Can you take on the challenge of making and selling 335 cakes, buns or biscuits during August?
Pick out your favourite recipes and share your super sweet treats with family and friends!
Or why not involve your local community and make treat boxes for your neighbours?
Here is how to do it in 10 simple steps:
Choose your favourite recipes

Decide which and how many baked goods you will include in each treat box

Don't forget the price and the turnaround time for deliveries

Choose your payment method. The easiest way is to set up an online fundraising page through our website and display the link on your flyer or you can collect the cash / cheque on delivery and we'll let you know how best to get this to us

Mock up a flyer for your neighbours inviting them to place orders with you. It doesn't need to be fancy or formal! Canva is a cool online tool that you can use to create flyers and it's free!

Advise your neighbours that they can place orders via phone, message or email and include your contact details

Pop your flyers into your neighbour's post boxes and wait for the orders to flood in!

Collate your orders and start baking!

Deliver your treat boxes and ensure you have collected all your takings

Using our 'How to pay your money in' guide select the most convenient way to pay
Health & Safety
The good news is that the Covid-19 virus cannot be spread via food but please remember to wash your hands before preparation and wear gloves and a face mask for the duration of your prep and packaging.
Check out the Food Standards Agency website for more information about how to bake safely.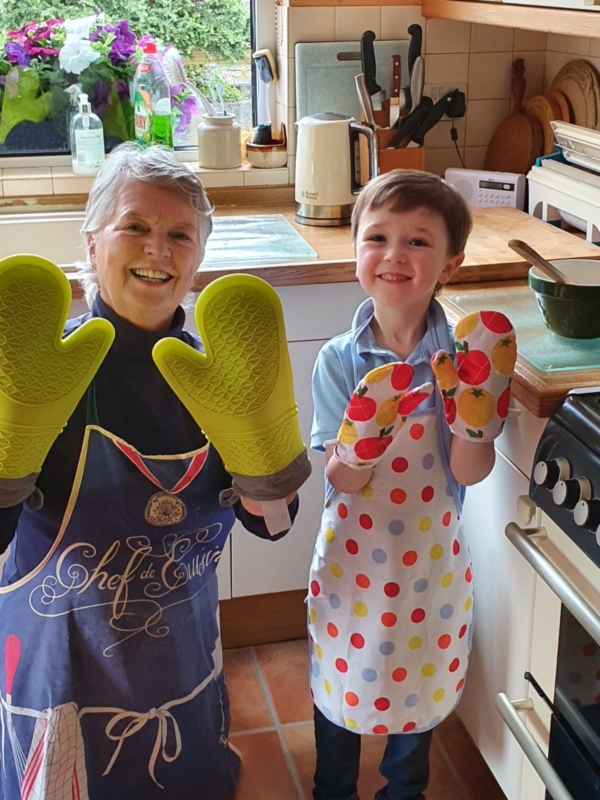 Meet Marjorie Beggs
Marjorie has a special reason for supporting NICHS and taking on Challenge 335 – Get Baking. She worked for the organisation for over 10 years as an Advice Nurse and has seen first-hand the impact the charity has on the lives of people living with lifelong conditions.
Marjorie is a very keen baker and loves making sweet treats with her grandson. When deciding to take on Challenge 335, the only thing she was worried about was how and to who she would sell her buns and biscuits to. She decided to follow the advice on our website and make treat boxes for family, friends and neighbours.