£45.00 - Sign Up Now
Date & Time:
Saturday 27th August 2022
Location:
Meet at Carrick Cottage, Annalong, Newry
Your next big adventure? Glow On!
Escape the bustle of the city and join us for a night to remember this summer as you experience the beauty of a stunning sunset in the Mourne Mountains before taking up our #TeamNICHS 'Glow For It' challenge - finding our way back to base camp after dark!
After a delicious welcome BBQ at Carrick Cottage Cafe we'll follow the Mourne Wall to the summit of Slieve Binnian (747m), taking in the spectacular views of the deep blue of the Silent Valley and Ben Crom reservoirs, the Blue Lough, Annalong Forest and the majesty of the Binnian Tors, before reaching the summit to relax and watch the sun slip away into the horizon and all in aid of helping us continue our fight against chest, heart and stroke illnesses.
There might be some dancing in the moonlight as we then break out our glow sticks, don our beanie hats with lights and follow the lantern parade under a star-filled sky back to Carrick Cottage for some hot chocolate and toasted marshmallows!
This is an all-inclusive event, a wonder walk not a race to the top, so suitable for anyone in general good health - no prior hiking experience required as our expert guides are on hand to help.

Approx. Duration: 7 hours
Arrival 4.30pm for registration & BBQ
Hike starts at 6pm (takes approx. 2 hours at a leisurely pace)
Sunset 8.30pm
Return to Carrick Cottage by 10.30pm
NB: Min Age: 12 (If under the age of 18 you must be accompanied by a parent or guardian)

Registration fee £45
We suggest a minimum fundraising target of £100 per person

Registration fee includes welcome BBQ at Carrick Cottage Cafe, qualified outdoor instructors leading the hike, refreshments upon return and glow sticks!

Limited spaces available so sign up now to secure your place!

How to sign up
1. Sign up by completing the form below.
2. You'll receive an automatic email when your form is submitted and one of our team will be in touch shortly after that.

If you have any queries about this event please contact our Events team on events@nichs.org.uk or by ringing (028)9032 0184.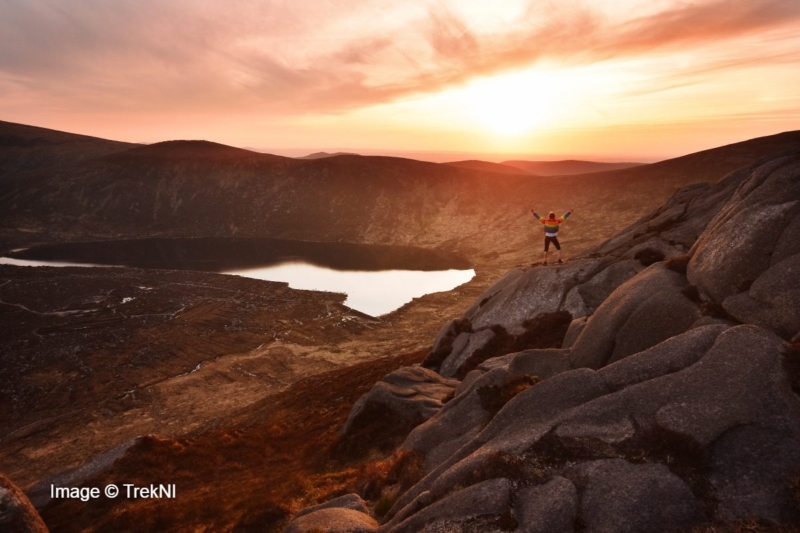 Slieve Binnian, at 747m, is totally worth it for those views and sunset photos! This mountain is one of my personal favourites to photograph in any season and any time of the day! This is a good one to hike in summer at sunset as the longer evenings give you a better opportunity to capture plenty of photos in that gorgeous golden light.