Virtual Red Dress Run 2021
Sponsored by

£10.00 - Sign Up Now
Date & Time:
Sunday 21st February 11am
Location:
Your local area

This year the Red Dress Run is going virtual and we'd love you to take part and run or walk your 5K from your local area.
Sadly, the pandemic means we can't all meet together , but we hope to make this event as connected a possible, starting with encouraging everyone to try and take part on the 21st February at 11am. We've got exciting plans on how we'll all keep connected so watch this space.
Don't worry if you can't take part on the 21st February, you can run or walk your way, on your day, because working together, step by step, we'll help get local people fit, healthy and back on their feet.

Why take part?
By taking part, you'll be helping us to rebuild thousands of lives across Northern Ireland.
In the last year alone, our work has helped people to get back on their feet through:
• Investing £2.9 million in services during 2019/20
• Supporting over 25,000 people in schools, workplaces, and communities to live longer, healthier lives
• Supporting over 3,300 living with a heart, stroke, or respiratory conditions


Entry - £10
Under 14s - FREE
Raise £50 per participant and receive a Red Dress Run medal.
Sign up now and receive your fundraising pack! Your fundraising pack will include a heart for you to wear on your sleeve and some other goodies.
We encourage everyone to dress in red, you could dress up as your favourite red character or go wacky with red hair and a red tutu. If you would like to buy any of our branded clothing or merchandise please visit our shop.


If you have any queries about this event please contact our events team on events@nichs.org.uk or by ringing 07436584079.
Proudly Supported by MACE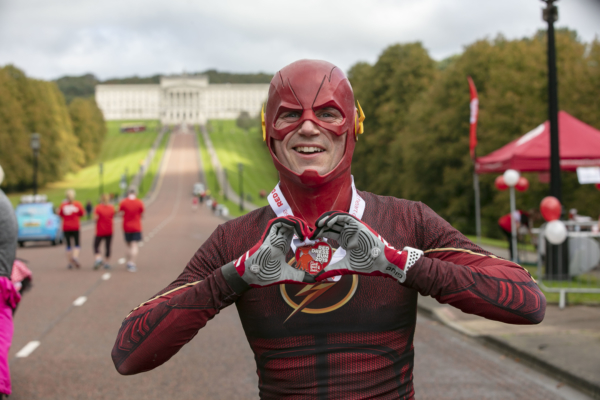 Join Graham and his family
"I lost my dad to a massive stroke in 2016 and for the last four years I've been running the Red Dress Run in memory of him. With every step I take, I get a chance to remember him and raise money so that others hopefully don't have to go through what I had to. I hope he will be proud of me."