There are currently 335,000 people living with chest, heart and stroke conditions in Northern Ireland and these people are more vulnerable to the effects of COVID-19.
By joining our 'Get Extreme' challenge you can help raise funds for our COVID-19 Recovery Service. That means we can continue to provide a vital service that will help these and any other people who recover from the virus with ongoing care and support as they recuperate.
Our 'Get Extreme' challenge is not one for the fainthearted as it will push you to your limits. The challenge, should you choose to accept it, is to complete 335 crunches, press-ups or burpees in just 24 hours! And… to make it worth the effort, get people to sponsor you to see you sweat.
You can use our 'Get Extreme' selfie board (download it at the bottom of this page) to display the name of your nominees and post it on social media. If any of your nominees don't complete their challenge within 24 hours, then they must make a £10 donation to us!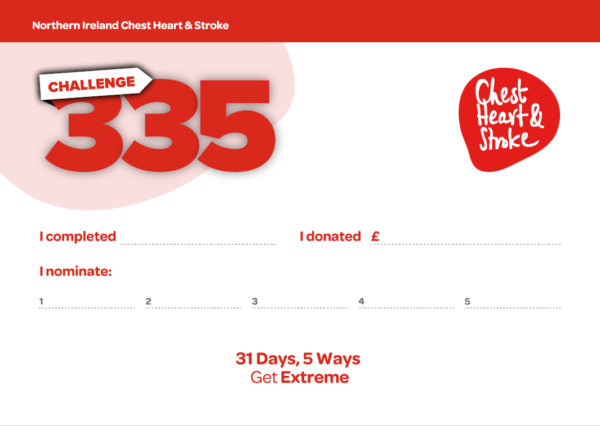 Donate to Nominate
Once you've completed your 'Get Extreme' challenge, donate £5 here, which gives you the power to nominate someone else to give it a go.
Here are some videos which show you how to do a proper press up, crunch and burpee. No slacking!
A quick recap on how to take part in our 'Get Extreme' challenge:
Sign up to the challenge.
Decide which activity you're going to do.
Smash your 335 sit-ups, press-ups or burpees! If you can take photos or videos during your challenge, please share them with us using #Challenge335 and tagging us.
Donate £5 via our website selecting Challenge 335 as the reason and decide who the next challengers should be!
Complete your selfie board and post the photo on your social media, tagging your nominees and #Challenge335.
Encourage your nominees and ensure they honour the challenge!
Share your photos, videos and feedback with us using #Challenge335.
Celebrate your fantastic achievement!