Spring Appeal 2018
"If Only…" is a phrase that still haunts me
A letter from Christine Waring…
If only I had known that my husband Alan was about to have a catastrophic stroke, I would have taken him to hospital. But nine years ago I had no idea that he was displaying all the classic symptoms.
If only I had known how to respond as the adverts tell us now, I'd have known he was having a mini stroke called a Transient Ischemic Attack (TIA), and we could have prevented his major stroke the next day.
If only there was a way to stop other people going through what we went through.
Thankfully now there is.
I am writing this letter today to help raise funds for NICHS's life-changing support and prevention services, to make sure other families never have to say "If only I had known", or face the trauma of the aftermath of a stroke alone.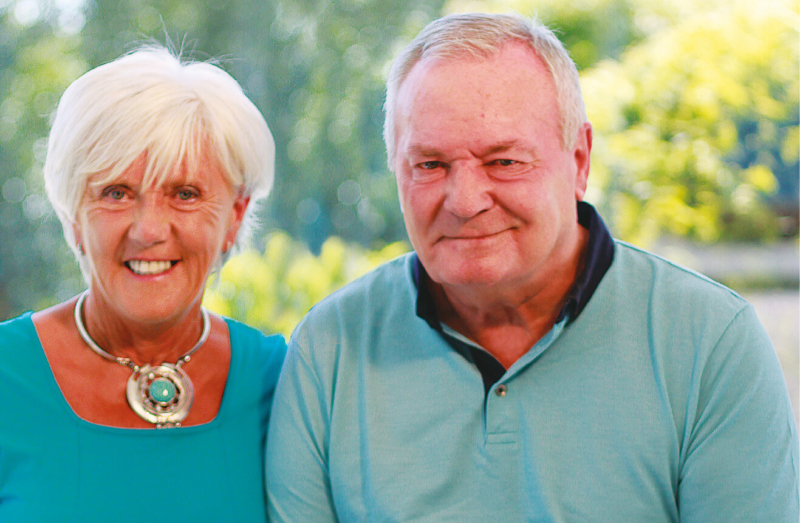 Please, will you help save lives today?
Alan had just retired and I was 59. We were making plans to start enjoying more time together. It was February, and we had just booked a cruise and a month-long holiday in Tenerife. Our grown-up children live in England and Scotland, so we were FaceTiming our son one day when suddenly Alan had a wee turn and just disappeared onto the floor. He was out for a minute or two.
If only we had known then that it was a mini stroke. But we didn't. Alan didn't want a fuss made and wouldn't let me take him to the hospital.
If only we had, I wouldn't be living in silence now.
The next evening, Alan went to work. He had taken a part-time job as a night-time security guard but had let his colleague go home to his sick wife, and so was alone. It was only when the police arrived at my door the next morning that I found out what had happened.
Alan had suffered a major stroke and had lain unconscious and alone, for hours. By the time he was found the next morning, significant damage had been done and our lives were changed forever.
He went to work one night and came home from the hospital six months later a different man. From here on I became his full-time carer. Alan's stroke left him unable to speak, and for nine years I have lived in a silent world with him.
If only we had known he had experienced a mini stroke the day before, our life might still be filled with chat and laughter together.
Please will you give your support today to the NICHS Stroke Care Fund to help this wonderful charity continue its life-changing, life-saving work, raising awareness and providing practical rehabilitation programmes that can help stroke survivors get their lives back on track?
An essential element of NICHS's work includes providing specialist support and guidance for families coping with the aftermath of a stroke. After Alan came home, Lynn, the Stroke Family Support Coordinator from NICHS came to see us. Lynn acts as a link between hospital and home providing assistance and guidance to stroke survivors, their families and carers, like us.
I had been living in such a silent world that when she arrived, I just cried my eyes out! The stroke had come as a tremendous shock, and Lynn was the first person who understood what I was going through. I don't know what I would have done without her help and support. We both loved it when Lynn came to the house. Whatever we'd been feeling, she always cheered us up. She was so jolly and so thoughtful.
For the first year I didn't want to leave Alan by himself in case something happened to him, but sometimes I felt like the quietness of the house was closing in on me.
Having someone to talk to was so important. Lynn's job is to support everyone in the family, and while obviously everyone's attention was on Alan, and helping him in every way we could, it was such a relief to have someone who also knew the toll it was taking on me.
Please, will you give your support today to families facing the devastation of a stroke?
But we just have had to get on with it. Alan's trying to tell me things, and I'm trying to make out what it is. We tried lots of communications aids, but none were suitable for Alan because of his aphasia (an inability to communicate). We're very good at charades now! There are times when we have spent the whole day with him trying to tell me about something he has seen outside. Thankfully he still has a sense of humour.
I miss him being able to talk to me. We communicate through our eyes, and I think his body language has improved. He was always so demonstrative, always giving me a cuddle and holding my hand, so it's been really tough not hearing him tell me loves me, for so long.
Lynn also helped me have time for myself by encouraging Alan to attend one of NICHS's Stroke Activity Groups, which he loves and really looks forward to. As Alan's mobility improved and with Lynn's help, I felt more confident about leaving him for short periods of time to give me more time to myself. I also go to the monthly NICHS Carers' Group where I can talk to other people who are in a similar situation as myself.
I said 'What if…' for a very long time…and in fact, nine years later, I still do.
In 2017 there were 36,741 people living with a stroke-related condition in Northern Ireland, and it is always increasing because more people survive a stroke. Also, strokes are identified and treated more efficiently now. Awareness campaigns such as FAST and NICHS's, "Mini Stroke, Massive Warning" are helping people become more aware of stroke symptoms and what actions to take.
But the need for their services is ever increasing which means their need for funding is too.
A gift today, of just £17 will pay for a visit from a Stroke Family Support Coordinator in the aftermath of a stroke and help a stroke survivor rebuild their life.
I know the impact of always thinking "If only…."
Please consider helping NICHS raise the funds they need to make sure no-one else has to say those words. But if they do, NICHS will be there to help them.
Thank you.
Yours sincerely,
Christine Waring
PS: I might still think "If Only..…" when it comes to Alan's stroke, but thankfully I've never had to think 'If only I had support.' Please, can you help make sure no else has to? Thank you.