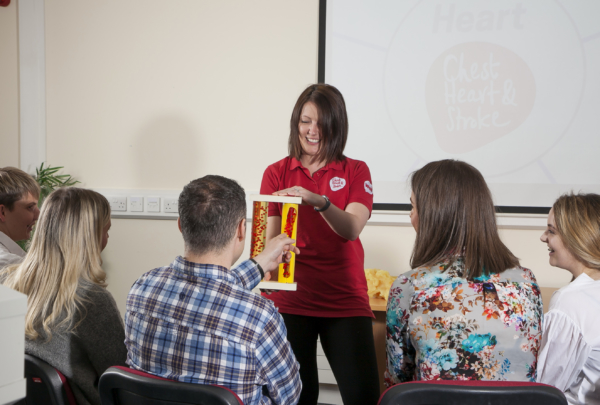 Supporting community health and wellbeing
We are continuing to provide a range of health promotion information to the public during the COVID-19 pandemic with adapted services and safety protocols in place.
Our health promotion services include health checks and health and wellbeing talks, both of which can be delivered via face-to-face or on online platforms to ensure your community group feels safe and comfortable whilst receiving the information they need to live healthy and active lives.
This means they can make informed choices, helping to prevent serious illnesses like chest, heart and stroke conditions.
Our Health Check is:

A personal and confidential face-to-face appointment with a skilled and caring health promotion specialist who will listen to you and support any changes you wish to make.
High-quality based on scientific information that aims to detect early warning signs of heart disease or stroke.
Informed by a pre-health check assessment and consent form that you will be asked to complete before your health check and other terms and conditions apply.
Caring offering you same-day results with a more detailed personal health report sent to you by email after your health check.
Supportive offering you information about healthy living and services and suggest you see your family doctor if we are worried about your risk factors.

Our Well Talks cover a variety of topics, which can be adapted accordingly to suit your specific needs. They last around 1 hour and can be delivered face-to-face or via online platforms. The following is our range of topic options:

Support Your Wellbeing - Take 5 Steps to Wellbeing
Know Your Signs and Symptoms of Chest, Heart and Stroke Conditions
Know Your ABC's - Atrial Fibrillation, Blood Pressure and Cholesterol
A Healthy Heart
Healthy Eating on a Budget
Healthy Eating and Nutrition
Physical Activity - An Active Day
Physical Activity – Strengthening
Stress
Sleep
Alcohol
Smoking