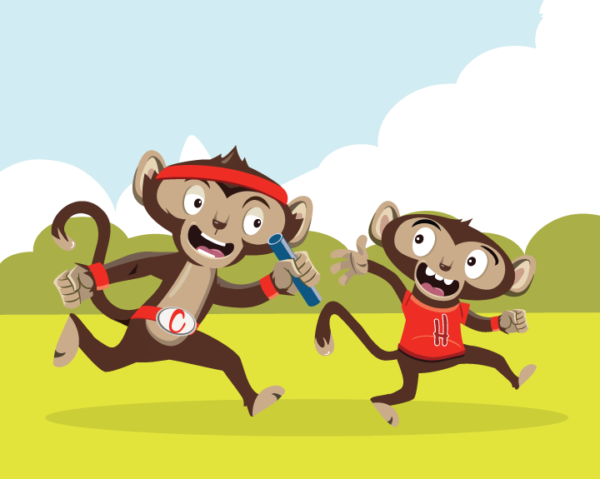 Chester's Challenge is a fun, interactive three-week health promotion and education programme aimed at Primary 5 and 7 children in extended schools. These are in areas of greater need, where pupils have a higher risk of becoming unwell in the future.
Featuring our Chester monkey character, Chester's Challenge is adapted to tie in with the curriculum, with workshops focusing on healthy eating, keeping active, screen time and sleep. We're still providing this important service to schools and are continuing to liaise with them to create even more bespoke versions of the challenge.
As well as Chester's Challenge, NICHS has also:
Developed a new 30-Day Challenge to keep our younger children active and healthy during COVID 19.
Heartley's Heroes Talk – 40 minute interactive primary school talk.
Healthy snack videos suitable for primary aged children.
Created stress and sleep videos for older children to help them keep well during COVID-19.
Created Well Talks/Webinars available for young people in secondary schools and colleges to educate and inspire them to make informed lifestyle changes to keep well and active, particularly during this time of challenge and change.
'In School' Chester's Challenge

It comprises of:

Three 60-minute fun and interactive workshops delivered over three weeks for Primary 5 classes:


Week 1 – Ten Gems of Knowledge

Healthy eating
Eatwell Guide quiz
Importance of breakfast
Packing a healthy lunch box

Week 2 – The Jungle

Physical activity guidelines – aerobic/strength
Hydration
Movement flow exercises

Week 3 – Evening Time at the Tree House

Screen time
Fast food though food labels
Relaxation & sleep

Plus, NICHS offers a P7 standalone one-hour talk 'Dangers of smoking/e-cigarettes'

Online Chester's Challenge

It comprises of:

Three 30-minute fun and interactive workshops delivered over three weeks for Primary 5 classes via a secure link to the classroom:

Eat Your Way to Health
Jungle Challenge - Physical Activity
Chester and Heartley's Challenge – Screen Time and Sleep.
Plus, a 'Stamp out Smoking/E-cigarettes' 30-minute workshop for pupils in Primary 6 or 7.

The programme not only supports the implementation of healthy living education in primary schools but also links directly with the Key Stage 2 curriculum; including:

'The World Around Us'
Maths (for example working out amounts of salt and fat on food labels)
'Thinking, Skills, and Personal Capabilities' – gives opportunities to collaborate and cooperate and to problem solve
'Personal Development and Mutual Understanding' topics
The Eco-School Programme
Literacy – activities in workbook, for example story boarding
Art – for example designing a poster highlighting healthy living

Our independent evaluation of the programme has reported many benefits of this programme for both the children and schools.

"The Chester Workshops links well to the P5 School Curriculum. The first topic studied in P5 each year is Wonderful Me which looks at the body and covers healthy eating, need for exercise, organs and their function etc, so it ties in really well with this topic. Through the Wonderful Me topic we design a healthy dinner menu, measure our heart rate before and after different exercises in PE, and we look at the damage sugary drinks has on our teeth. These topics are all covered in the Chester Workshops, and are a good way to reinforce learning for the children".


Taughmonagh Primary School, P5 Class Teacher

"Chester's health and wellbeing programme is a pupil friendly interactive course which is invaluable in helping schools promote the importance of making healthy choices early in life and improving their general health and fitness through manageable goals each week relating to exercise and eating habits. It also raises the awareness of some of the health consequences which can result later in life and equips pupils with the knowledge of what to do in certain situations".

Taughmonagh Primary School, P5 Class Teacher

"Having worked with the Chester Challenge team for a number of years now, they work to enthuse the children about healthy living through informative and fun activities".

P5 Teacher, Holy Cross Girls Primary School

We asked the pupils what they thought of Chester's Challenge:


"Not just sitting and learning but doing and learning"
"We could all join in."
"We shouldn't eat any more than one piece/bar of chocolate a day."
"We should get 60 minutes per day of exercise."
"Chester teaches us smoking is really bad for you."