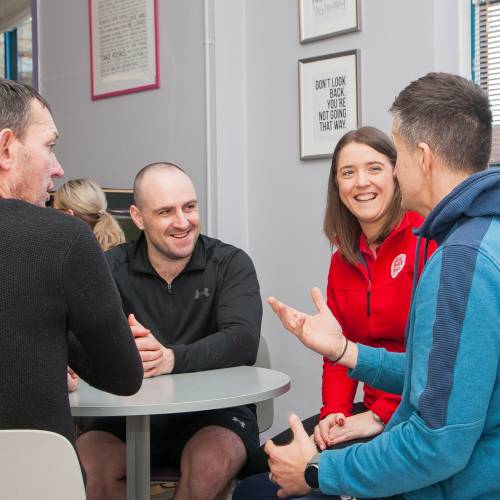 Our Health and Homeless service aims to raise awareness of healthy living and help to reduce the risk of chest, heart and stroke conditions. This service is currently available to homeless hostels and drop-in centres in the Belfast and South Eastern areas. Funded by the Public Health Agency, it prioritises families and young people who are homeless.
Well Space is delivered over a one-year period within the Belfast and South Eastern Trust and encourages hostels to embrace healthy options and people who are homeless to incorporate health and wellbeing practices into their day-to-day lives.

It involves:

Registration of Interest

Registration of Interest Form signed off by management
One-to-one online meeting to discuss programme and hostel background

Survey

Sent out to staff and clients to assess health needs
Top three health priorities selected to tailor health and wellbeing needs for the hostel

Health Champion Training

Both staff and clients are encouraged to take on this role
Action Plan developed by health champions with support from NICHS and with a focus on health priorities
Completion of hostel health policy
Mental Health First Aid Training

Delivery of Action Plan

Services delivered should be in line with health priorities and public health campaigns
NICHS will support delivery of services and provision of resources
Peer-to-Peer Support Session for Health Champions

Completion of Programme

Survey resent to staff and clients to assess changes in lifestyle behaviours and impact made
Celebration event
Opportunity to progress into another year of the programme to update skills through training and continue to provide services in line with new health priorities from the survey and public health campaigns

For those not taking part in Well Space, we also provide the following services:

Wellness Webinars
Online Lifestyle Health Check
Online Cooking Sessions
Health Promotion Information
Healthy Recipe booklets
Advice and support

To book any of these services please contact our Health and Wellbeing Coordinator via email healthpromotion@nichs.org.uk or call 028 9032 0184.