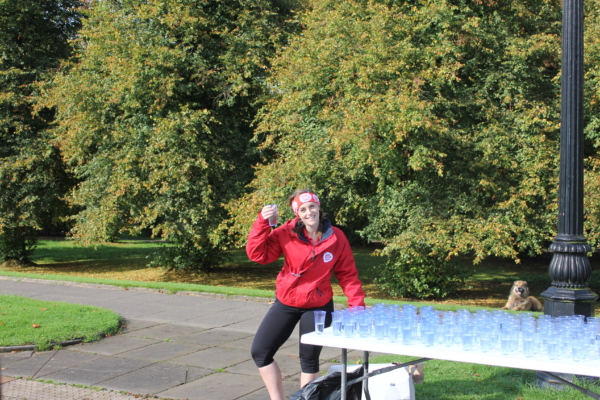 Ali Rodgers has been working as part of our fantastic Community Fundraising Team since 2018. Here she tells us about some highlights of her time with NICHS so far.
What does your role involve? How does it make a difference?
My role is so varied week on week. I am usually the first person a fundraiser speaks to about their event and I give them the advice they need to make it successful. Some of these events I attend which is brilliant as I get to know the person or family better and it means a lot to me to be able to meet the fundraisers face to face. I also manage all the online orders, from wedding favours to Christmas merchandise.
You will usually see me at Christmas time dressed as an Elf along with Santa at one of our Collection Days, or helping out at any one of our Headquarter lead events.
What are some of your favourite memories from your time at NICHS?
One of my favourite memories so far is attending one of the Care Services outings to Newcastle in 2018. It was so eye-opening meeting some of the people who go through our services and finding out more about that side of the charity. It was really lovely getting to chat to the clients and find out their struggles and how the Care Services team have helped them manage their conditions. I found this outing to be so helpful for the role I do as I could explain to my fundraisers how the money is used to help support people with chest, heart or stroke conditions.
What is your favourite thing about working at NICHS?
The variety of people I speak to weekly and how inspirational their stories are. It really makes me feel very proud to work for a charity that has been able to help so many people, and for such a long time. The recent pandemic has shown that the people of NI really rallied behind us, and wanted to support us with their fundraising, it really meant a lot!
What has the charity changed from when you started to now?
The development of our cardiac services has been revamped since I started in 2018, however with the recent pandemic it has taken a little longer to get off the ground. Hopefully this year will see a lot more progression.
What would you love to see in the future of NICHS?
To be able to raise enough money to be able to continue to fund as many research projects as possible.