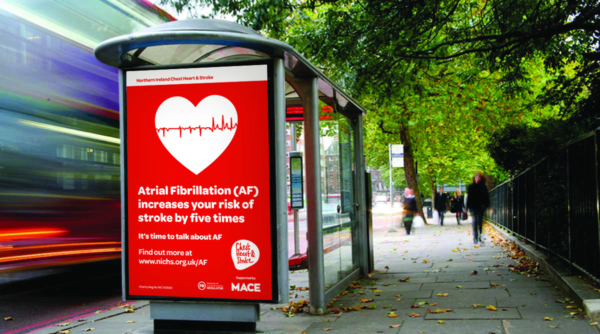 Campaigning for Change
The health and wellbeing of everyone in Northern Ireland is hugely influenced by the policy decisions and spending priorities of government – at local council, Stormont, Westminster and beyond. It is important, therefore, that NICHS seeks to understand and influence government at all levels.
NICHS seeks to act as a voice for those who wish to improve the chest, heart and stroke health of the people of Northern Ireland. Together we can act to prevent and alleviate chest, heart and stroke illnesses and ensure those who need treatment and support receive the best possible care.
Every day in Northern Ireland, around 11 people have a stroke and 3 people die as a result. Stroke has devastating consequences for individuals and families.


In addition to providing a range of care services, NICHS campaigns for improvements in government policy and activity relating to stroke.

We are campaigning:

for increased action to prevent strokes in the first place. We want to see more action taken to raise awareness, detect and manage the stroke risk relating to conditions such as Atrial Fibrillation (more info on AF below) and TIAs (mini-stroke) and supporting people to make healthy lifestyle choices.
for more extensive community rehabilitation and support services to be made available to people after a stroke in the community with regular review meetings.
for the review and improvement of acute hospital stroke services, increased specialisation in Hyper Acute Stroke Units and the development of new services to save lives and reduce disability.
for voluntary and community stroke services to be a key part of the stroke pathway and for more emphasis to be put on improving quality of life and independence by ensuring all survivors have access to Taking Control self-management support.

Stroke Manifesto

We launched our new Stroke Manifesto 'Stroke Reform in Northern Irteland: Time for Action' In September 2021 as a call on the Department of Health and the Northern Ireland Executive to act on stroke reform in NI to improve stroke prevention, treatment and care for stroke survivors and their families.

In 2017, we led stroke pre-consultation meetings and workshops with stroke survivors to inform and influence the process of reforming stroke care in Northern Ireland. The formal 'Reshaping Stroke Care' consultation on these changes took place two years later in 2019. Progress on these reforms was already slow and political instability and the COVID-19 crisis have sadly further delayed changes.

Northern Ireland urgently needs not just to press on with the Stroke Review but with the development of a wider Stroke Strategy that addresses prevention, acute care, rehabilitation and support in the community, and our Manifesto outlines ten objectives to achieve improvements across these areas.

Download a copy of our Stroke Manifesto.

We launched our new stroke manifesto document with a 'hybrid' online and in-person event taking place at the Long Gallery at Stormont. The event was attended by political figures and leading health officials. The event was addressed by leading stroke consultants from Great Britain and the Republic of Ireland as well as the Chief Medical Officer, Prof Sir Michael McBride.

Atrial Fibrillation is a condition which is estimated to affect over 50,000 people in Northern Ireland, and is a significant contributor to premature death and disability. Detecting and appropriately treating AF is a major health issue in Northern Ireland.


We are campaigning to improve services in this area. We are;

seeking to raise general awareness amongst health professionals and the general public in NI of what AF is and how it can be detected and managed.
asking government to ensure that all those who are on the Atrial Fibrillation Register are regularly reviewed to check that they are receiving appropriate treatment.
asking government to ensure that patients in Northern Ireland have access to the latest NICE approved treatments, including medicines as soon as possible.
exploring the methods by which patients could be cost effectively targeted and checked for AF, and investigating the rationale and logistics of a programme of opportunistic testing for AF aimed at specific population cohorts.
investigating how patients can be better educated about their condition, in particular exploring how medicine adherence can be improved.

NICHS has added AF to the list of conditions we look for during our health checks.

Read our AF Inquiry below:

The success of Northern Ireland Chest Heart and Stroke's campaign to establish a screening service for Familial Hypercholesterolaemia (FH) means that hundreds of lives will be changed and many lives saved across Northern Ireland.

. Around one in 500 people has Familial Hypercholesterolaemia (FH), an inherited condition that increases cholesterol levels from birth. Most people are unaware that they have it, but if left untreated around half of men affected will develop heart disease by age 50 and approximately 30% of women by age 60.

The screening and database project has been developed and funded in partnership with the Health and Social Care Board.

Asthma can kill and that is a sad reality. More action is required to raise awareness of asthma impact and to make sure children, young people and adults take their asthma medicine as prescribed and have regular asthma checks.

NICHS established and is leading a local Asthma Taskforce consisting of clinicians, public health colleagues and community representatives.

Our aim is to raise awareness of Asthma and to reduce the burden of asthma amongst young people.

We are campaigning and carrying out the following:

• Increased education and awareness for primary and secondary healthcare professionals, primarily aimed at improving care for children with asthma

• Raising awareness of asthma education and practice within schools and community to support and educate young people with asthma

• Improved asthma care in Northern Ireland, placing it higher on the health agenda and significantly improve care for asthma sufferers in Northern Ireland and prevent new cases

• Raise awareness and call for more action to reduce air pollution and other environmental factors that contribute to asthma