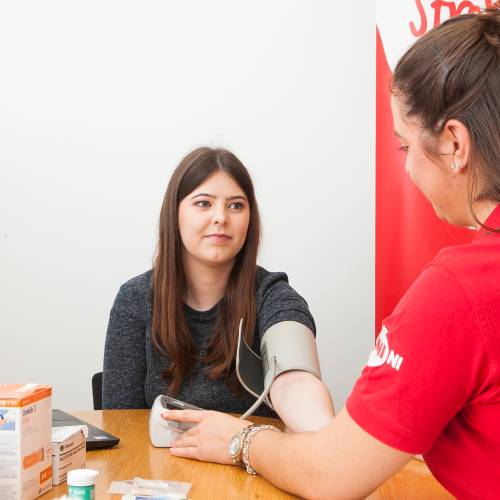 Our 'Well Check' is a comprehensive cardiovascular health check that can detect the early warning signs and hidden risk factors associated with avoidable chest, heart and stroke illnesses.

NICHS is the only local charity in Northern Ireland that offers a health check for Atrial Fibrillation (irregular heartbeat), Blood Pressure and Cholesterol and much more.
Maintaining a healthy lifestyle and being aware of risk factors to your health, and knowing the signs and symptoms of a heart attack and stroke, will help to prevent chest, heart and stroke conditions.
Our Health Checks are regularly updated in line with research and clinical guidelines and are carried out by our compassionate and professional staff who deliver a personal and confidential service.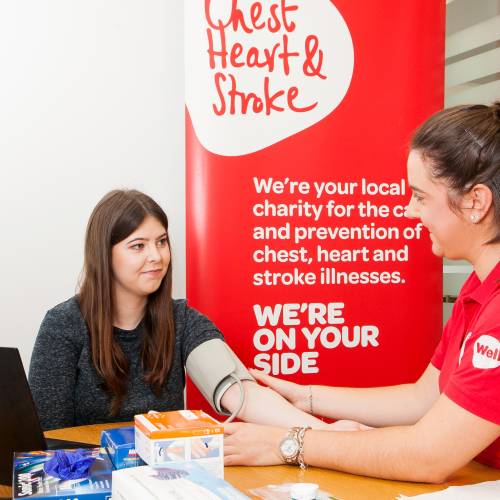 What's included in our Well Check?
Pre-health check and consent form
Lifestyle assessment (nutrition, physical activity, smoking, alcohol, stress)
Atrial Fibrillation / AF - irregular heartbeat
Pulse
Cholesterol
Body Mass Index (BMI)
Body Composition (body fat %, muscle mass, metabolic age & body water %)
Personal Report
Supporting Information
Follow up support (if required)
Our health checks are held at NICHS Head Office, 21 Dublin Road, Belfast BT2 7HB. The cost of the health check is £25.00 per person, or a donation towards the cost would be greatly appreciated. Payment can be made on the day of the health check via cash or card payment.
To book, click the button below and enter the code HEALTH.
Find out more about our Well Checks:
Our Health Check is:

A personal and confidential face-to-face appointment with a skilled and caring health promotion specialist who will listen to you and support any changes you wish to make.
High-quality based on scientific information that aims to detect early warning signs of heart disease or stroke.
Informed by a pre-health check assessment and consent form that you will be asked complete before your health check and other terms and condition apply.
Caring offering you same-day results with a more detailed personal health report sent to you by email after your health check.
Supportive offering you information about healthy living and services and suggest you see your family doctor if we are worried about your risk factors.

To book one of our health checks use the following booking link: Click Here. Enter the relevant code for the health check you wish to book:

Well Check at NICHS HQ: HEALTH

Alternatively, you can email the Health Promotion Team to register your interest at healthpromotion@nichs.org.uk and someone from our team will be in touch.


Our health checks are held in our Head Office at 21 Dublin Road, Belfast, BT2 7HB.

Our Pop-Up AF and BP health checks are held in various locations across NI. Keep an eye on our website and social media pages to find out when and where Pop-Up Health Checks are taking place, or contact our Health Promotion Team at healthpromotion@nichs.org.uk.

£25 pp (this covers the cost of equipment, health check supplies and materials used during the health check). Alternatively, you can make a donation towards the cost of the health check if you are unable to pay the full amount.

We also use some of this money to fund health checks for people living in deprived areas across NI and health checks offered free to support special events.


By living a healthy and active lifestyle you can reduce your risk of heart attack and stroke and help keep your blood pressure and cholesterol at healthy levels. Undiagnosed high blood pressure, increases your risk of a heart attack or stroke.

As Seamus discovered, sometimes high blood pressure has no warning signs which it is why is crucial that people know their numbers.

Seamus says;

"I was completely unaware of this (high blood pressure) and I am very grateful to the NICHS Well Check for picking up this problem. Please pass on my thanks to everyone involved."

Hundreds of people like Seamus are uncovering hidden risk factors – don't delay, a health check can prevent illness and save lives.

The best way to protect yourself is to get your health checked at least once a year. Our Well Check may identify risk factors that could cause heart disease or stroke, so people can act and control of their own health.

"I was extremely well looked after. All my concerns were addressed, and everything was explained in detail. Very happy with the service and not only will I be back in the future but will definitely recommend your service to family and friends."

"Fantastic service. Great opportunity to gain an evidence-based insight into my heart and general health, through a supportive and friendly conversation. Thanks to the NICHS staff for their professional and kind manner."

"First class assessment, all the tests carried out were explained in detail but more importantly how the results are interpreted and any remedial action that needs to be taken."

All clients are required to sign a consent form before availing of our health checks.
All information discussed, disclosed and assessed during the health check is treat confidentially and stored in line with general data protection regulations.
Clients who are currently taking blood thinning medication i.e. warfarin cannot avail of cholesterol and/or glucose tests.
Clients who are pregnant or/and have medically implanted devices such defibrillators or pacemakers cannot avail of body composition analysis.
Clients will receive personal results during the appointment with a detailed report provided after the health check via email.
Well Checks for Workplaces, Communities and Schools
We also provide bespoke Health Check packages for businesses, communities and organisations that are designed around your needs, with an organisational report provided on the health of your employees.