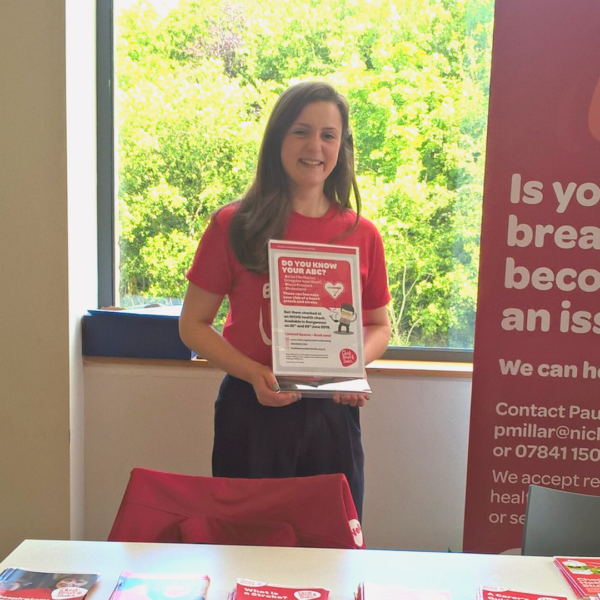 Maeve O' Hagan is a Care Services Co-ordinator in our Cardiac Services Team. Here she tells us about some highlights of her time with NICHS so far.
What is your role at NICHS?
I am a Care Services Co-ordinator so I support people who have had a recent heart diagnosis, deliver education sessions about the heart and provide reassurance and a listening ear. I am based in the Southern Trust so support those from Armagh, Craigavon, Dungannon and Newry.
When did you first start working at NICHS?
Initially, I joined as a placement student in our Health Promotion team in 2016, delivering health checks and talks in the community. I then returned after I graduated from University and joined our Care Services department and was primarily involved in stroke and respiratory support in the community.
What does your role involve? How does it make a difference?
Cardiac services is the newest branch of our Care Services offering which we have been developing. I am involved in making that initial call with someone who is living with a heart illness who has reached out to us on our website or was referred from their cardiac team. I listen to their story, offer support and keep in touch. I was involved in developing our cardiac education programme, Heart Strong Online, which is a 6 week education programme which launched in 2020 on Zoom. This has really helped people living with heart conditions meet others in the same boat as them and provide the reassurance that "it's not just me." I am also involved in our Stay Strong Walking Groups for those who would like to walk more and meet others face to face. We have had a good laugh each week while we get out walking. I also deliver our self-management programme, Taking Control.
What are some of your favourite memories from your time at NICHS?
I enjoy our Walking Groups and love seeing the progress that our clients make. One man in particular stands out in my mind. On week 1, he was only comfortable walking for 20 minutes and by week 12 he was walking for 60 minutes and felt it gave him a new lease of life. We really got on so well having had lovely chats each week and taking in the fresh air. Another woman loved the walking group so much that she wrote a poem which I have stuck on my wall. People are so appreciative about what we do and it is lovely when they let us know.
What is your favourite thing about working at NICHS?
By the end of each day I know that I've done a kind thing for someone else and that really warms my heart.
What has the charity changed from when you started to now?
I have got a great insight into the variety of services we provide having worked in different departments in the organisation. In particular, I've been involved in helping to grow our Cardiac Service provision to where it is now. I have enjoyed seeing the ideas coming to life and being received really well.
What would you love to see in the future of NICHS?
I am looking forward to our Cardiac Services continuing to grow and improve so we can help more and more people with heart conditions. From listening to our client stories, it can be so isolating and a big confidence knock to be diagnosed with a heart condition, so I would love to connect more people together face to face so that they have each other.