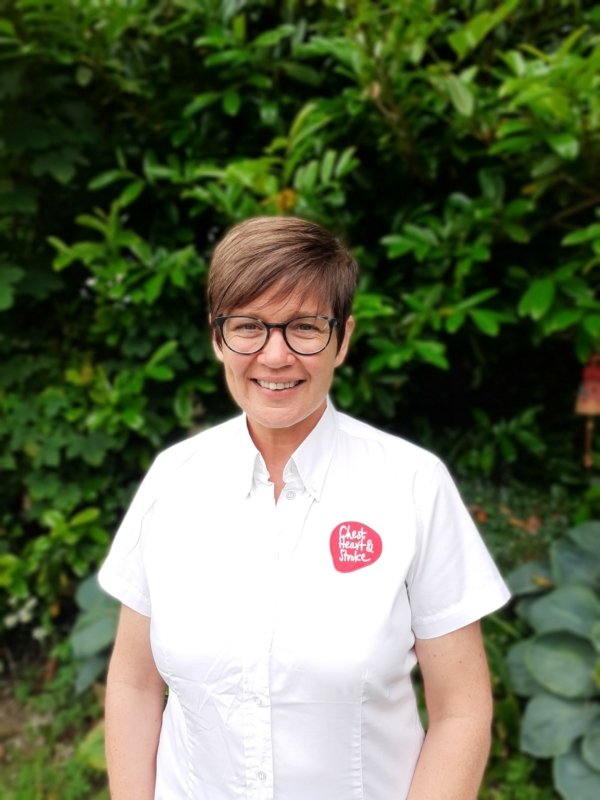 Norma Ferguson is one of our fantastic Care Services Co-ordinators, working in the Western Trust, and has been with us since November 2003, almost 18 years! Here is her story of her role with NICHS:
What does your role involve? How does it make a difference?
My role within NI Chest Heart and Stroke is working with stroke clients. I make initial contact with them through my role in our Stroke Family Support Service and then I support them as they access our services. I co-ordinate the Stroke Activity Group in Enniskillen and deliver PREP (Post Rehab Exercise/Education Programme) in Omagh and Enniskillen. I also have a weekly group who attend the gym each week in the Lakeland Forum.
One of the rewarding most parts of my job is being able to see the difference our services make to our clients. From the initial home visit right through to the confidence they build by attending PREP and Taking Control, then having the option to come along to the gym to further their recovery with people who know exactly how they feel, and the struggles they face. Friendships that are built up through attending our activity groups, supporting people at a time of change in their life and knowing that they don't have to go through it alone.
What is your favourite memory from your time working at NICHS so far?
One of my favourite memories is when I was assisting a client at PREP who had difficulties with their speech. They came along each week and most of our communication was done through smiling and thumbs up. Each week at PREP I would count the repetitions for each exercise as we moved around the exercise stations and towards the end of the 12 week programme they just started to count along with me, it was an amazing moment. I don't think I stopped smiling the rest of the day!!
What is your favourite thing about working at NICHS?
I have many favourite things about my role within NICHS. I get great job satisfaction from supporting others. We have so many fantastic services I very rarely feel that we have nothing to offer a referral to our services. Supporting people to live their lives as fully as possible after stroke and accompanying them on that journey is very rewarding. We have a great team of staff not only in my team but throughout the organisation. I know I could lift the phone to any member of staff, and they would do their best to help me. I also love the variety of my role, no two days are the same. The last 15 months have been difficult, but we have been able to adapt by moving services onto Zoom. I have been well supported by my manager and senior leadership team to adapt to the change and look forward to our services resuming face to face.
How has the charity changed from when you started to now?
NICHS have evolved to be one of the leading health charities in Northern Ireland. We have a clear message; caring and supporting people living with Chest Heart and Stroke conditions. We can offer services that are of real value to our clients, practical and easy to understand information on secondary care and prevention, and signposting for our clients onto services that are beneficial to them. When I first started in the organisation, we had family support and weekly activity groups. We now have a range of services for Chest, Heart and Stroke conditions, and they complement each other encouraging clients to live their lives to the full.
What would you love see in the future of NICHS?
I've worked with NICHS for 18 years and looking back I can see the positive changes in that have taken place in that time, if we evolve as much over the next 18 years let alone 75 who knows where we'll be in the future. Exciting times ahead and I'm looking forward to being part of it!