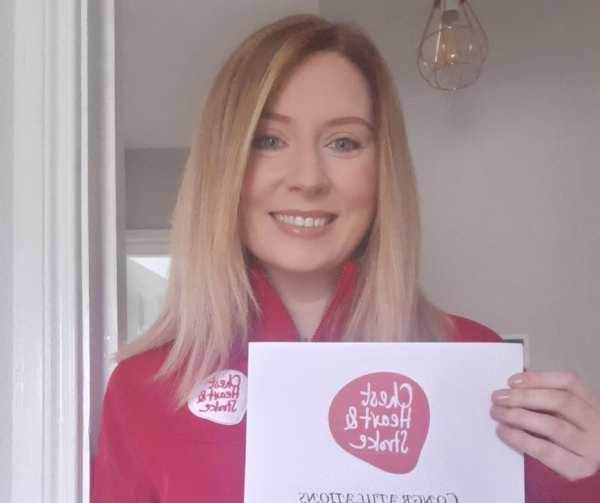 Stephanie Prince has been a part of our brilliant Care Services team for 2 years - here she tells us about some highlights of her time with NICHS so far.
What is your role at NICHS?
Senior Care Services Co-ordinator.
When did you first start working at NICHS?
I started in October 2019 as a Stroke Family Support Co-ordinator and moved to the role of Senior Care Services Co-ordinator in August 2021.
What does your role involve? How does it make a difference?
My key responsibility is to develop cardiac services alongside our Head of Service and support the Care team in the Northern and North Western Trust. I also work in co-operation with the Trust and work in partnership with healthcare professionals to offer an extended support service to clients going through rehab. I support clients that have been referred to NICHS and refer/ signpost to internal and external services. It's a brilliant, challenging and rewarding role which provides the opportunity to create supportive and engaging services for our clients and their family members/carers.
What are some of your favourite memories from your time at NICHS?
Over the past two years, I have worked with some lovely clients who, despite their condition, have shown resilience and determination in their recovery. I remember one client who left hospital in a wheelchair after taking a stroke. He soon progressed to using a walking stick and once he was able to, he attended our PREP programme and Taking Control. He attended each week focusing on his own goals and as the weeks progressed, I was struck with how positive this individual was and his determination to recover was inspiring. He was also very encouraging to others participating in the programmes and offered plenty of peer support. This client was very complimentary of our services and has even offered to volunteer in the future. Through his own hard work alongside participating in NICHS services, this individual feels more confident in himself and his post-stroke recovery. Working with clients such as this, reinforces that NICHS offers an essential support network for our clients.
What is your favourite thing about working at NICHS?
I work with a lovely team of people who are all very supportive of one another. Everyone in NICHS is always willing to help and it's this collaborative culture which make me confident about the future success of NICHS services.
What has the charity changed from when you started to now?
The development of our online services. Before the pandemic, I would never have thought we could deliver our programmes using an online platform. I am proud of what we have all achieved since the start of the pandemic. NICHS have still been able to deliver informative online programmes which also offers peer support to clients.
What would you love to see in the future of NICHS?
I'm looking forward to seeing the positive development of Care Services and working alongside other teams across NICHS.