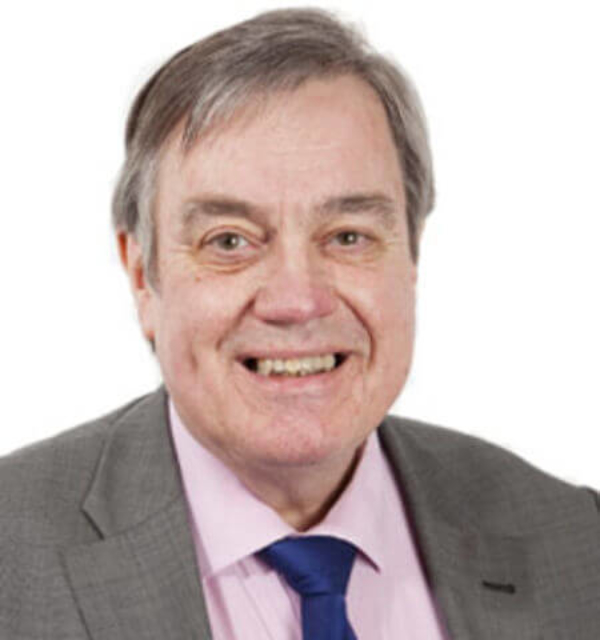 He was given the brief to greatly increase the income to NICHS and increase its public profile. In those days the average income for each year was on average £70k.
In successive years the income increased by 24%, by 55%, with further increases of 27% in 1986–87, 27% in 1987–88 and 42% in 1988–89. This meant that by 1989, i.e. within 6 years, the income to NICHS was 10 times what it had been in each of the 5 years before Andrew's appointment.
Diet & CHD
Just a few months after his appointment he noticed a headline article in the Sunday Times indicating that the British diet was killing people as a result of coronary heart disease. Andrew made contact with those health professionals in London who had raised concerns about this. He managed to persuade Dr Roger Lowry, then Chairman of NICHS, to have a conference on a "Healthier Ulster Diet" in order to persuade health professionals and the community that change in diet would greatly reduce the incidence of coronary heart disease. Northern Ireland and Scotland were known to be the worst in the western world in terms of coronary deaths.
He managed to persuade Professor Philip James to be a keynote speaker at a conference which was held in the University of Ulster, Jordanstown on 8th June 1984. This brought together health professionals, people from education, as well as people from industry. There were very few individuals there who openly contested the fact that diet played a major role in coronary heart disease.
Coronary Prevention Group
As a result of an initiative by Professor Alun Evans, a Coronary Prevention Group was formed within NICHS in order to take forward a prevention strategy. Professor Evans wrote a strategy which was then submitted to Government. In 1987 Sir Richard Needham along with the Secretary of State, Tom King, launched the Northern Ireland Change of Heart Programme which greatly increased the awareness of lifestyle in the development of coronary heart disease and the possibility of reducing the risk.
Genesis of NICHS Screening
In September 1987, just 7 months after the launch of the Northern Ireland Change of Heart Programme, Andrew, in order to attract individuals to the NICHS stand at the Ideal Home Exhibition, offered a cholesterol measuring service with the help of a nurse employed under the ACE Scheme. Interest in cholesterol had obviously become rampant in Northern Ireland in that individuals were queuing for hours in order to have their cholesterol measured. At the end of the 2 week period a waiting list of 4,000 people wishing to have their cholesterol measured had been created by NICHS staff and volunteers at the stand.
Andrew recommended to the Board and they agreed that 2 nurses would be employed under the ACE Scheme and that a cholesterol machine would be purchased. Over the forthcoming years many tens of thousands of individuals had cholesterol measured. Within a number of months the service was broadened to look at other risk factors.
Heart Bus in Enniskillen
Several years prior to this in Enniskillen we had established a heart bus which was located outside the market place on each market day. This offered the facility to members of the public, particularly farmers coming in from rural areas to have risk factors for coronary heart diseased checked. A huge number of individuals was identified with elevated risk factors for coronary heart disease.
There was at that time a swell and an upsurge in support for preventive work, particularly in terms of coronary heart disease. This is why it was a major achievement to persuade Government to launch the Northern Ireland Change of Heart Programme which greatly increased the awareness of the Northern Ireland public on this matter.
Premises
The Board of NICHS had been anxious for many years to move from their offices on the second floor in Bryson House. Little progress had been made. Andrew investigated properties and asked Charles Scott, a local estate agent, to keep an eye out for properties. In September 1985 NICHS purchased these premises at 21 Dublin Road. In the early days the ground floor was rented to a kitchen company in order to produce substantial rent. The purchase of these premises was a very sound act from a business perspective. The property was bought at a time when property prices were extremely low. NICHS would not be able to afford to be on these premises if we had to pay rent. It is also very positive that we do not have to pay rates since rates on a property in a location like this would be exceedingly high.
Yehudi Menuhin
The new premises at 21 Dublin Road were opened by no less an individual than Sir Yehudi Menuhin, the internationally renowned violinist. After the building had been destroyed by fire, the new foundation stone for this building were laid by Sir Richard Doll who is the individuals who discovered the link between smoking and lung cancer.
As many of you may remember, the official opening of this building was undertaken by His Royal Highness, Prince Edward.
In 1987 2 holiday chalets were built in the Share Centre in Co Fermanagh for holidays for stroke patients and families.
Waiting Lists for Cardiac Surgery
From the early 1990s Andrew led a campaign to greatly increase access to cardiac surgery in Northern Ireland. In those days individuals had to wait 3 to 4 years in some cases to have access to treatment. The number of cardiac surgical teams has now increased 3 fold and while waiting times are unacceptable, they are greatly improved from what they were.
Stroke Units
Andrew took the initiative in 1989 and decided to organise a consensus conference on the treatment of stroke. This was in line with and similar to a conference organised by the King's Fund in London.
Expert speakers were brought to Northern Ireland and each Health Board was asked to nominate a spokesperson who would indicate what future plans each of the 4 Boards had in relation to stroke.
While the Board representatives acknowledged that a lot more needed to be done for stroke, in effect nothing very substantial happened as a result of official policy. However, it did motivate many pioneering stroke physicians and others into developing Stroke Units in some of the hospitals in Northern Ireland. In the 1990s Northern Ireland had the highest density of Stroke Units in the whole of the UK.
Andrew and colleagues played a key role in the development of the official Northern Ireland Stroke Strategy which was finally launched by Minister Michael McGimpsey in 2008. Substantially increased resources were directed to stroke and saw the introduction of clot busting drugs to combat stroke, greatly increased number and frequency of TIA Clinics and more resources for stroke in the community.
Andrew played a key role both on a UK level and in Northern Ireland in terms of tobacco control and particularly in relation to smoke–free workplaces as well as public places.You can see the vast changes which have been gained over the last 3 decades.