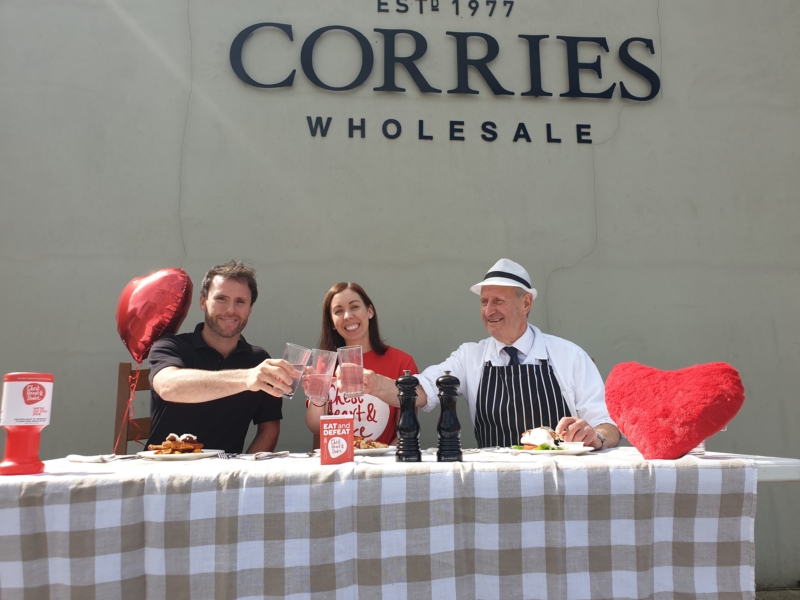 Family run business Corries Farm Butchers has selected leading local charity Northern Ireland Chest Heart and Stroke (NICHS) as their chosen charity for 2019/20.
The Corrie family chose the cause as it is one that is close to their hearts after the head of the Corrie clan, Will Corrie Senior, suffered a heart attack in January of this year.
Julie, Will's daughter, said, "Northern Ireland Chest Heart and Stroke was our first choice this year after our father's heart attack. Dad received excellent care following his heart attack and seven months on, he has been through rehab classes, refined his diet, increased his exercise and is making good progress. It is our sincere hope that the money raised through this charity partnership year will help to improve and increase the range of services and treatments available to support cardiac patients, like our dad. We hope that the public can join us in raising vital funds for this very worthy charity."
The partnership will see Corries' staff and customers working with NI Chest Heart and Stroke to raise money through a number of fundraising, health promotion and awareness raising activities. These fundraising efforts will take place throughout Corries' seven shops located across Belfast, Dundonald and Newtownards, and also through their mobile app where they have recently launched the ordering system for their 'lighter choice' range of nutritionally balanced ready meals.
Karen Dunlop-Wainwright, Corporate Fundraiser at NICHS, said, "We are very excited about this partnership and would like to sincerely thank the Corrie family for choosing to support us. Over 80% of our work relies on donations from the public, so partnerships with local businesses like Corries are extremely important to us. The money raised through the year will help support our Heart Fund, enabling us to invest in research into early diagnosis of heart disease and into developing our new cardiac support programmes to support local people affected by these conditions."
If would you like to know more about the partnership or the work of Northern Ireland Chest Heart and Stroke, please get in touch with the NICHS Fundraising Team on 028 9032 0184.