NI Chest Heart & Stroke has urged the health authorities to run a public information campaign to avoid unnecessary deaths from other conditions during the coronavirus crisis.
The charity is concerned by figures released by the NI Statistics and Research Agency indicating 236 excess deaths unrelated to Covid-19 occurred in April. This is in comparison with the same period over the previous five years and amounts to eight extra deaths every day.
NICHS Chief Executive Declan Cunnane said: "Without a comprehensive analysis of the figures, it is impossible to draw firm conclusions about the causes of excess deaths, but we are very concerned that a proportion may be due to chest, heart and stroke conditions. We know from speaking to doctors that the number of people seeking medical help in hospitals for heart and stroke conditions has declined dramatically, in some cases by up to 70%, yet we have no reason to believe that the number of people affected by these conditions is any lower than in previous years. We have also spoken to people who have delayed seeking heart treatment because of Covid-19 and who have been very lucky to avoid complications or even death, having received treatment just in time.
"We urge anyone with symptoms of heart attack or stroke to treat it as a medical emergency and call 999. This is the only way of ensuring that unnecessary deaths are kept to a minimum. We support the Executive's efforts to prevent the spread of coronavirus by limiting unnecessary journeys outside the home and by enforcing social distancing. But we would remind people that GPs and hospitals are still open for consultation by phone and that they should follow their doctors' advice on medication.
"People may be unsure about symptoms, so we're urging the Public Health Agency to run public advice campaigns such as the F.A.S.T campaign to emphasise the need for quick action, particularly with regard to stroke symptoms. We are doing our best to draw the risks to people's attention, but we cannot do it alone."
FAST stands for: Facial weakness; Arm weakness; Speech problems; Time to call 999.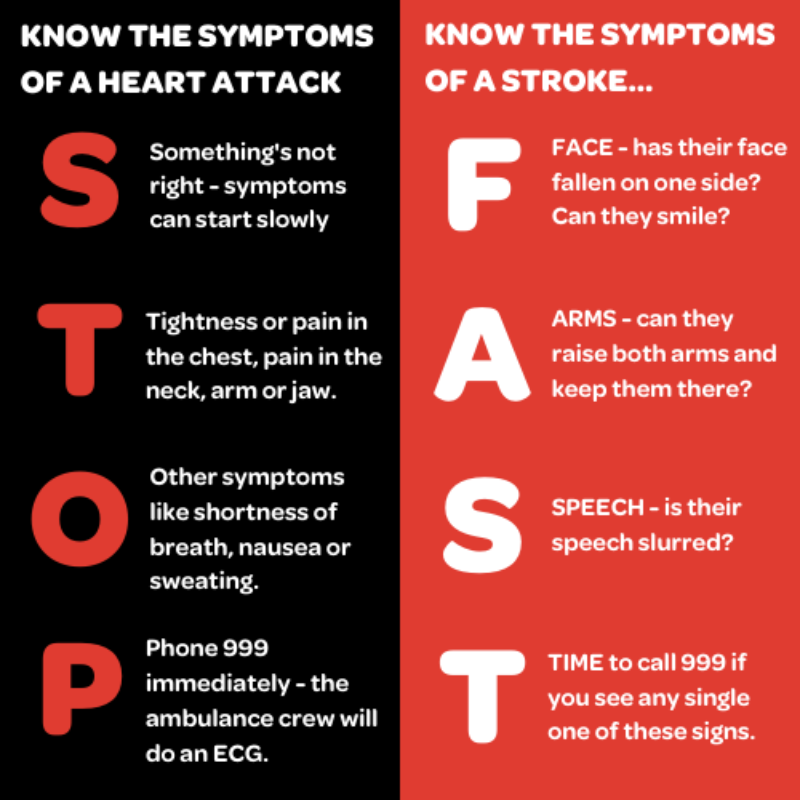 If you have symptoms of a heart attack or stroke, treat it as a medical emergency and call 999.