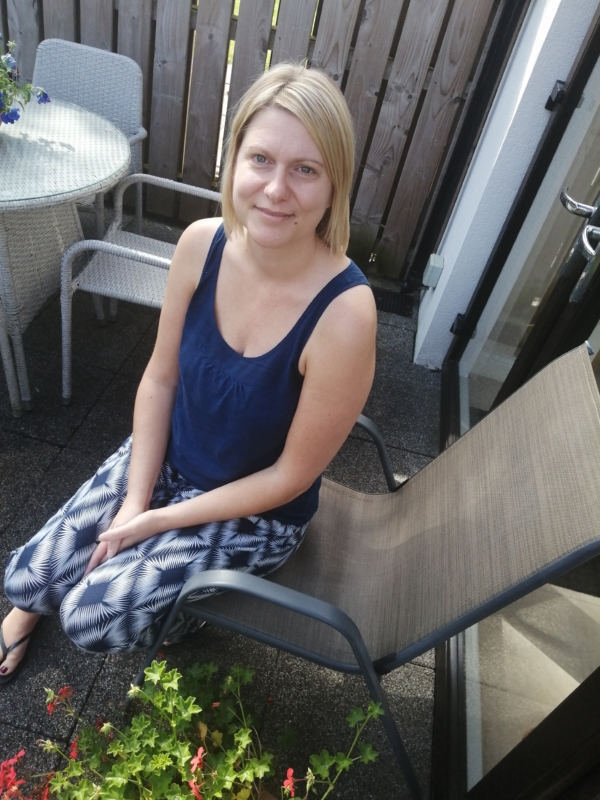 COVID survivor Saskia Mulder credits a charity's ground-breaking recovery service for helping her break out of a cycle of fear and isolation caused by the virus.
Psychiatric nurse Saskia (40) from Magherafelt, is still plagued by breathing difficulties and debilitating fatigue eight months after contracting the virus. But she says NI Chest Heart & Stroke's COVID Recovery Service – the only one of its kind in Northern Ireland – helped her take control of her illness at a time when she thought she was going to "lose her mind."
"I had an awful fear of death," she said, "and I was crying like a child. I live on my own and I woke up many nights wondering if I needed to call 999. Nobody could help me – and the Health Service had nothing for people in my position, although my GP has been really good. One day during the summer she rang me after I'd mentioned my breathing difficulties and suggested that I refer myself to NI Chest Heart & Stroke's new service.
"The first time I took part in a Zoom meeting with others living with COVID, people were breaking down in tears because it was their first opportunity to get real support. They had been discharged from hospital and had been left with nothing. There's this idea that COVID patients are taking up a lot of Health Service time with their recovery, but that's not the case. We feel that we've just been left to fend for ourselves at home."
The COVID Recovery Service was established by NI Chest Heart & Stroke in July. It offers support with breathing, fatigue, anxiety and isolation, and sleep patterns. It is one of a number of services the charity has either created or adapted to ensure thousands of local people have the support they need to stay healthy and safe during the pandemic.
Catherine Murnin, the charity's Director of Care Services, said: "Our COVID recovery service is a pilot and like many of our services for people living with chest, heart and stroke conditions, nearly 90% of our work is funded by public donation. Unfortunately, the Covid-19 pandemic has meant the demand on all our services is bigger than ever whilst donations have fallen. That's why we're encouraging local people and the Northern Ireland Executive to help support us to bring hope and support to people this Christmas and beyond."
NI Chest Heart and Stroke has continued to run other online support services for people with chest, heart and stroke illnesses throughout the COVID emergency, despite a huge drop in donations. To help bring hope this Christmas, the charity has launched its Christmas 'Still Caring Through COVID' campaign to reassure people that all its services are operating, subject to current government guidelines. Supported by MACE, the campaign also aims to inspire hope and encourage local people to support the charity in any way they can so that many other local people like Saskia can avail of support that helps rebuild local lives.
Saskia Mulder said: "The COVID Recovery Service came along at just the right time for me. I was so overwhelmed by the illness and symptoms that were forever changing. I had sinus infection, vertigo, chronic fatigue, appalling migraines and breathing problems. Only now, after eight months, am I starting to get a little bit of energy back. But around three o'clock every afternoon it gets to the stage where I'm exhausted. I can't even lift my arm or walk as far as the kitchen. I'm so scared of re-contracting the virus and I'm scared about the idea of going back to work as a nurse – not that there's any prospect of that at the moment.
"But thanks to NI Chest Heart and Stroke I've learned how to manage my symptoms without panicking, as well as setting targets to achieve my long-term health goals."
There are many ways local people can help support NICHS this Christmas. For more information and to donate, visit www.nichs.org.uk