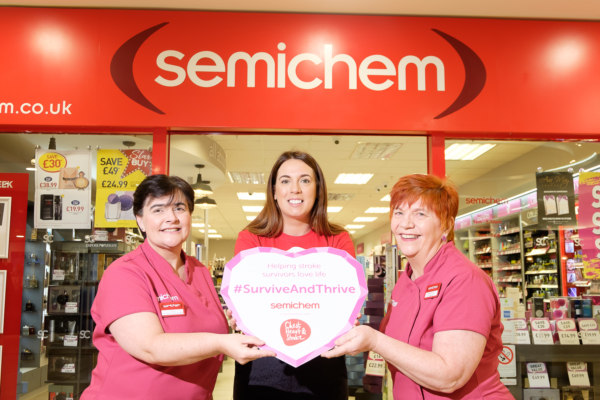 Health driven retailer Semichem has announced leading local health charity Northern Ireland Chest Heart and Stroke (NICHS) as their new charity partner.

The two organisations have joined forces to support thousands of stroke survivors and their families to rebuild their lives and confidence following a stroke through exercise and education.
Staff and customers at Semichem stores across NI will take part in a fun calendar of activity over the course of the partnership.
David Thompson, Regional Business Manager, said, "The money raised from the partnership will help fund the charity's vital Stroke Support Services. This is a cause that strongly resonates with our staff, and customers because almost one in six people in the communities we serve is affected by chest, heart or stroke conditions.
"Our core purpose is to serve our communities and to improve people's everyday lives, so the partnership is an excellent fit."
In Northern Ireland, over 37,000 people are affected by stroke or TIA (mini-stroke) and around eleven people each day suffer a stroke, which more and more people are surviving due to advances in medical care and treatment. Leaving hospital is only the start of their rehabilitation journey, and without support, survivors can be left feeling anxious and frustrated, which can lead to social isolation and depression. NI Chest, Heart and Stroke offers support services and programmes to help local people who have survived a stroke to cope in the aftermath and help with rehabilitation and rebuilding confidence and quality of life.
Sinead Lynch, Corporate Partnerships Manager at NICHS said, "We are extremely grateful and excited to work with staff and customers at Semichem. Over 80% of our work relies on donations from the public so on behalf of everyone in at NICHS, I would like to thank the staff and customers for their support."
If would you like to know more about the partnership or the work of NICHS, please on 028 9032 0184.