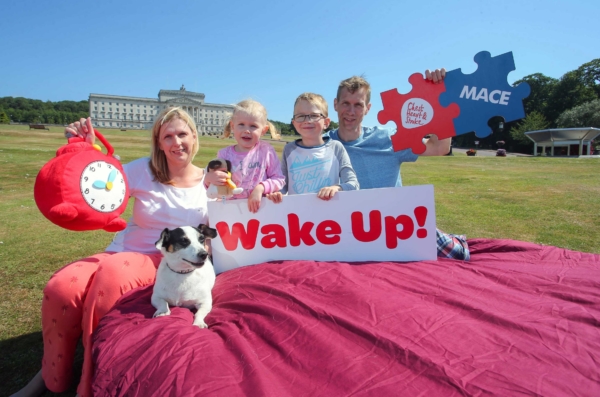 Northern Ireland Chest Heart and Stroke is calling on local families to wear their pyjamas in public for a very special cause – to help the thousands of families across Northern Ireland who have been affected by chest, heart and stroke illnesses. The local charity is holding its second annual Wake Up! Pyjama Walk, sponsored by MACE, to raise money for the work it does with families who are supporting a loved one living with a chest, heart or stroke illness.
The fun-filled, family friendly event will take place at Stormont on Saturday 29th September, at 10am. Last year's 5k route has been joined by a one mile option, known as the "Inspirational Mile" which will be suitable for people with limited mobility or families with small children. Both routes will be dog and pram friendly, and the 'Inspirational Mile' will be suitable for wheelchairs. U105's Johnny Hero and roadshow will be at the event and a healthy brunch will be served at the finish.
Fiona Greene, Director of Care Services at the charity, explained, "Living with chest, heart and stroke illnesses brings many challenges for the person affected as well as their family. There are currently over 200,000 people across Northern Ireland living with one of these illnesses and we want to be able to reach out to and support more of those families!
"NICHS provides tailored family support services such as Stroke Family Support, Respiratory Family Support, Carers Support Groups and Stroke Activity Groups.
"Our support reduces the impact of these illnesses on the family unit, by providing a listening ear and practical advice when they need our help the most. Our support groups are beneficial to the individual as well as granting their families peace of mind that their loved one is in a safe, supportive environment. We also offer support groups tailored to the needs of carers, so that they can get respite, recharge and return to care for their relative."
Kim Colhoun from Saintfield took part in the inaugural Wake Up! Walk last September, only seven months after her stroke. Kim recalls, "I had my stroke in February 2017 and initially it left me with communications and motor skills problems. At the hospital a nurse told me about the work NICHS does. I was only 48 when I had the stroke, with two teenage sons and a business to run. NICHS's support and rehabilitation has been vital to me, my husband and my family.
"It was a huge achievement for me to be able to take part in last year's Wake Up! Pyjama Walk and it allowed me to raise money for the charity that helped us so much."
Everyone is encouraged to bring family and friends, their kids and even the dog, all wearing their favourite PJs. To sign up visit www.nichs.org.uk/wakeupwalk. Registration is £15 and under 16's go free. All proceeds will go to the NICHS family support service. Walk with us! We're on your side and we need you to help us make a difference.
For more information, please contact Gillian Parker on gparker@nichs.org.uk or 028 9026 6715.