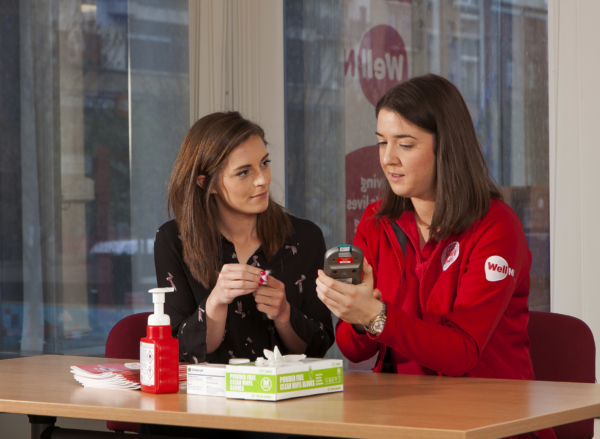 "It's not always about profit, it's about the wellbeing of the staff"

Ards and North Down Council's Mind Body Business initiative aims to encourage employers in the local area to prioritise staff health and wellbeing.

As part of the programme, each year, the Council teams up with local health charity Northern Ireland Chest Heart and Stroke (NICHS) to deliver individual Health Checks to staff members of local businesses.

This year has been no exception. Adapting in the face of the pandemic, NICHS is delivering 100 health checks, all online, and the Council's Mind Body Business members will avail of this service completely free of charge.

The Council says; 'The Mind, Body and Business programme is an initiative funded by the Public Health Agency and jointly run by the Council's Environmental Health Protection & Development and Economic Development departments. The initiative aims to encourage businesses to integrate health and wellbeing into their daily operations and to put wellbeing at the forefront of their organisation.
As part of this programme, we have been working closely with NI Chest, Heart and Stroke to support local businesses and their employees by offering them the opportunity to sign up to their 'Well Check' service. These health checks can help detect the early warning signs associated with developing chest, heart and stroke conditions and offer tailored advice to promote a healthier lifestyle.'

Head of Health Promotion Service at NICHS, Fidelma Carter says; 'We are delighted to continue to work hand in hand with the Ards and North Down Council to deliver these health checks. Our aim is to help people identify risk factors in people's lifestyles that could increase their risk of heart disease or stroke, and to help them come up with ways to adapt their behaviour. Prevention is at the core of NICHS's mission.'
The NICHS online health check service was specially requested from businesses in the local area and the Council reports;
'The enthusiasm for this service has been fantastic, with as many as 19 businesses taking advantage of the opportunity. The fact that NICHS can deliver the health checks online has enabled businesses to encourage their employees to take control of their health and wellbeing even if working from home.
Overall, the experience has been brilliant – the service has been excellent, the booking system is easy and the personal PDF reports are comprehensive. Thank you NICHS.'

Not stopping there, the local council has also booked 70 NICHS online health checks for its own staff members, to ensure that they continue to feel supported during the pandemic.
As the Council emphasises, 'It's not always about profit, it's about the wellbeing of staff.'

To find out more about Ards and North Down Council's Mind Body Business programme, visit https://www.ardsandnorthdown.gov.uk/business/environmental-health/mind-body-and-business
And to find out more about NICHS's health checks and ways to support the health and wellbeing of your staff, visit www.nichs.org.uk.