Breathing Better, a new model for supporting people with the devastating lung condition Chronic Obstruction Pulmonary Disease (COPD), has been launched in the Western Trust at the Omagh Leisure Complex. The roll out of Breathing Better in Omagh, Enniskillen, Rouskey and Castlederg has been completed in advance of World COPD Day, 21st November 2018, and coincides with the release of 2017/18 figures which showed that across Northern Ireland, the number of patients on the COPD register has risen by almost 1,000 to 40,955 people. This is an increase of 2.5% over a period of 12 months.
Spearheaded by Northern Ireland Chest Heart and Stroke, the Breathing Better Support Network is a collaborative service provided by Northern Ireland Chest Heart and Stroke, local Health and Social Care Trusts and local leisure facilities. It incorporates NICHS's Respiratory Family Support, the Trust's pulmonary rehabilitation, NICHS's 'Taking Control' Self Management Programme, then maintenance exercise classes and NICHS's Respiratory Support Group to provide one integrated care pathway for patients with COPD.
Linzi Davidson, NICHS's Respiratory Service's Coordinator in the Western Trust said: "Previously patients took part in a number of treatment plans delivered by different areas of the health service and voluntary sector. Breathing Better pulls these plans together into one coherent, co-ordinated pathway which marks a significant step forward for respiratory support in this area."
Patients diagnosed with COPD undergo a series of treatment stages. Pulmonary Rehabilitation is delivered by a specialist respiratory multidisciplinary team over a six week programme with the aim of improving physical condition and education. Patients can then attend Northern Ireland Chest Heart and Stroke's Taking Control Programme which teaches a range of self-management tools to optimise lung function. They then move on to Maintenance Classes delivered by staff at Fermanagh and Omagh District Council's leisure facilities which focus on exercise and activity for long term management of the disease. Lastly patients have the option of attending NICHS's support group meetings with emphasis on lifestyle, education, peer and social support.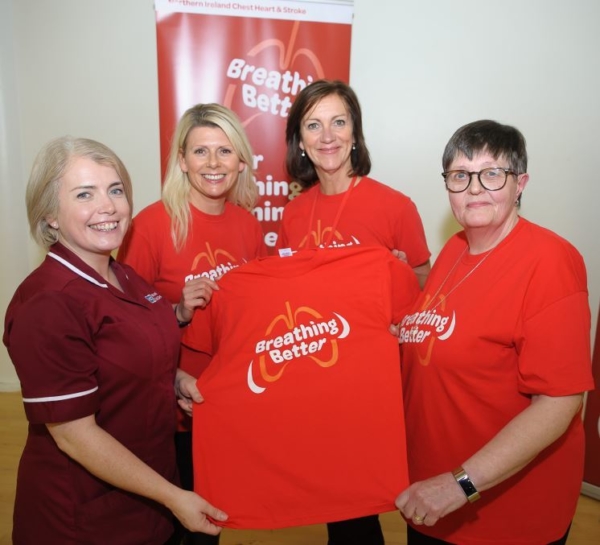 Fionna Henry who lives in Omagh, one of the first people to go through the new Breathing Better Programme, explained how the service had benefitted her, "In September of this year, I joined the Breathing Better programme. To say something is life changing is a bit dramatic, but the programme has certainly involved life style changes, which I have now embraced. I feel better, both physically and mentally. My skin, hair and nails are in better condition. I have gained a new found confidence. I want to thank everyone involved in Breathing Better both for giving me the courage and confidence to be myself. I don't want to be defined by my illness. I want to be in control of it, not the other way round."
Briege Leonard, Lead Respiratory Nurse, Western Health and Social Care Trust said: "This integrated pathway of exercise, education and support with the aim of enhancing quality of life and well-being is already having very positive results. Patients have improved confidence and a greater sense of control over their condition and there is less requirement for medical interventions long-term."
If you or a loved one have a long term have a long term respiratory condition, you can get more details about support services in your area on www.nichs.org.uk/supportservices. Alternatively you can contact NICHS on 028 9032 0184, mail@nichs.org.uk or go to www.nichs.org.uk/request-a-callback.