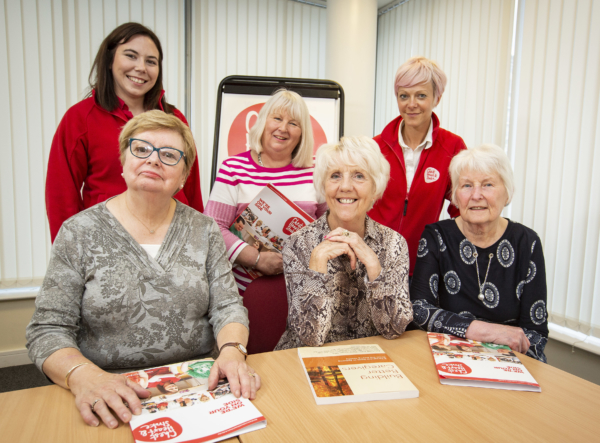 Northern Ireland Chest Heart and Stroke (NICHS) has become the first organisation in the UK to develop a new "Taking Care" self-management programme for carers, under licence from Stanford University
The new 6 week course, which is being piloted in June and July, offers practical and emotional support to people who care for someone who has a chest, heart or stroke condition, including teaching them skills to look after their loved one while also looking after themselves.
Pamela Hetherington, a carer who is currently attending the programme, said, "I attended my local NICHS Carers group, and it was there that I heard about the Taking Care programme. It's like a light has come on in my life. It is wonderful to be able to connect with other carers and people from the charity, and know that they're there for you and they understand. The programme gives us a place to talk about our experiences and problems, and to learn new ways and help each other to deal with them together."
Taking Care is a programme developed by Stanford University, which NICHS's Care Services staff have been trained to deliver as a 6 week workshop, specifically for carers of people with chest, heart or stroke conditions. The development of this new service builds on the charity's ten years of experience delivering self-management programmes locally, as the charity already delivers the Stanford Chronic Disease "Taking Control" Self-Management Programme which aims to help people manage their long term chest, heart and stroke conditions.
Pauline Millar, Head of Service at NICHS, spoke about the motivation behind the new service. "We noticed that many carers would attend our Taking Control workshops, which are aimed at those living with conditions rather than those caring for them. While they were able to gain some support from the sessions, we felt that Taking Control didn't offer all the relevant activities, knowledge and skills for carers to enable them to look after their own physical and mental health while also providing a caring role.
"Taking Care is tailored specifically to support carers to enable, enhance and empower them in their caring journey. As the role of a Carer can often go unrecognised and undervalued, the workshops give people the opportunity to meet others in a similar situation, share experiences, develop and learn new skills and gain support from each other in a positive environment."
The Taking Care programme is currently being piloted in the Belfast and Craigavon areas. Following these trials, the charity aims to evaluate the project with a view to expanding their support services for carers across Northern Ireland in the future. For further information on the Taking Care Programme, contact Pauline Millar on pmillar@nichs.org.uk or 07841150949.