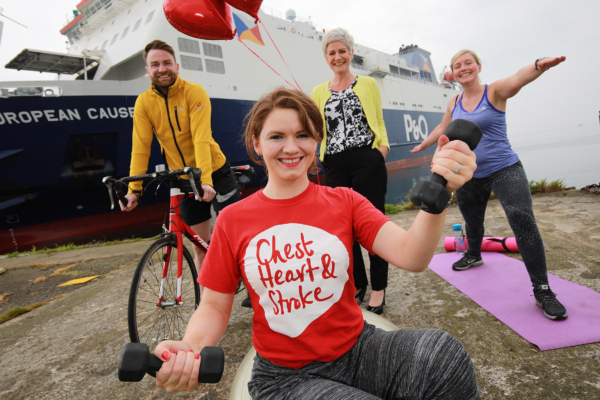 Northern Ireland Chest Heart & Stroke (NICHS) has launched a mutually beneficial partnership with the employees of P&O Ferries at their Larne Port location. Over 70 staff at the port are now taking part in the charity's Well Team programme that involves an array of activities and events focused on improving employees' health and wellbeing.
From health talks and healthy lunches to step challenges and half marathons, this month launches a year's calendar of activities that will get P&O Ferries' staff at the Port of Larne, and their sea faring colleagues on-board the ferries, focused on their health and overall wellbeing.
Sinead Lynch, Corporate Partnerships Manager from NICHS, explained why the Well Team Programme, which is funded by the PHA, is so important. "P&O Ferries is an important employer in the Larne area so we are delighted to work with them to help spread awareness of chest, heart and stroke conditions and the charity's care and prevention programmes. Within the Larne area, there are 2,814 people (2017 figures) living with coronary heart disease, heart failure, stroke or COPD. In addition, there are 6,991 people who have high blood pressure, Atrial Fibrillation or diabetes, all of which mean that they are at an increased risk of cardiovascular disease. That is why health initiatives such as this are so important. We hope everyone at P&O Ferries benefits from the programme and takes the information gained from it back to their friends and families."
To date, seven P&O Ferries' employees have volunteered to be Health Champions in their workplace, helping to spearhead the activities across multiple departments and getting the buy-in of their colleagues.
Staff have already started an NICHS walking challenge and to date have collectively walked 5,840,898 steps or 4,425km, the equivalent of 77 single journeys on their Larne to Cairnryan route.
Sinead Lynch continued, "This is an amazing accomplishment and it's great to see them take their first steps towards a healthier working environment."
Pictured depicting some of the wide variety of health activities being undertaken is (front, centre) Sinead Lynch from NICHS, with P&O Ferries' Port Manager Laura Gilmour (back, centre), and Health Champions Charles Mulvenna (Customer Operations Agent) and Stephanie Hodge (Customer Operations Supervisor.)