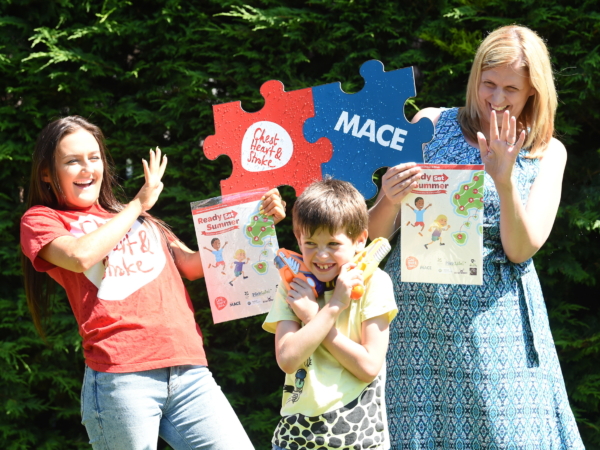 Local health charity Northern Ireland Chest Heart and Stroke is partnering with MACE and launching this summer's Ready Set Summer campaign. The campaign, now in its second year, aims to encourage kids to have fun and get active over the summer holidays.
The free 'Ready Set Summer' packs, which are available from selected MACE stores, are packed full of fun stuff for 7 -11 year olds to do over the school summer holidays. Each pack contains a wall chart listing fun activities and stickers to mark off adventures as and when they are done. There is a mixture of indoor and outdoor activities, as well as things to do with friends, family or just by themselves.
Gillian McDowell from MACE commented, "As a parent myself, I want my children to grow up healthy and active. But I know it can be a challenge to keep them occupied over the school holidays and often the easy option is the TV, computer games or a tablet. This free activity pack is crammed full of ideas that will be fun for them to do, but it will also mean they are physically active without even realising it."
Fidelma Carter, Public Health Director from Northern Ireland Chest Heart & Stroke, said:
"Behind the fun, there is a serious message. Over three-quarters of children in Northern Ireland don't get the recommended 60 minutes of physical activity each day, and one in four children here is classified as overweight or obese. Both of these put our children at increased risk of heart disease and stroke when they grow up. We believe prevention is better than a cure and if we teach our children to make healthy choices now, they may avoid developing illnesses when they are adults. Habits started at an early age can last a lifetime so we hope Ready Set Summer will show children that exercise can be fun and something they fit into their everyday lives."
To find your nearest MACE stockist, go to www.nichs.org.uk/readysetsummer.