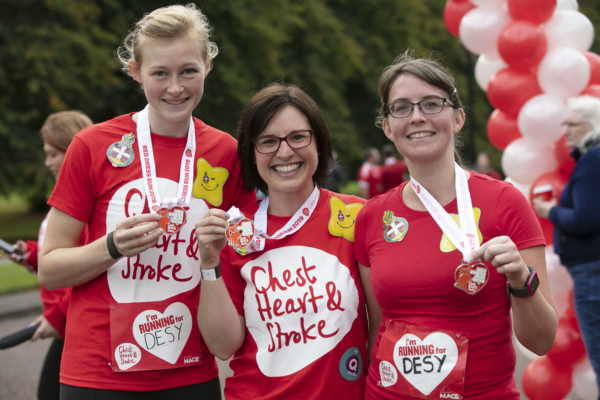 Hundreds of runners have descended on the Stormont Estate to take part in Northern Ireland Chest Heart and Stroke's Red Dress Run.
Now in its third year, the MACE-sponsored event, sees participants swap their usual running gear for red dresses in an attempt to raise awareness and support for those living with heart conditions.
Local presenter Sarah Travers acted as race marshal for the event runners, joggers, walkers and supporters took off for the 5K and 10K races.
Many participants wore their heart on their sleeves as they paid tribute to those who have been living with or lost to heart disease by writing the name of loved ones on their arms.
Jackie Trainor, Director of Income Generation at Northern Ireland Chest Heart and Stroke congratulated everyone who took part in the event.
"Once again supporters of Northern Ireland Chest Heart and Stroke came out in their droves to take part in our Red Dress Run and mark World Heart Day with us. Currently, 74,000 people across Northern Ireland are living with heart disease so today is all about showing these people that they are not alone while encouraging others to look after their heart health.
"Donations from events like today enable us to keep fighting against heart disease through research, care and prevention so on behalf of Northern Ireland Chest Heart and Stroke, I'd like to thank everyone who came along and made this event so special, especially our race sponsors, Mace."