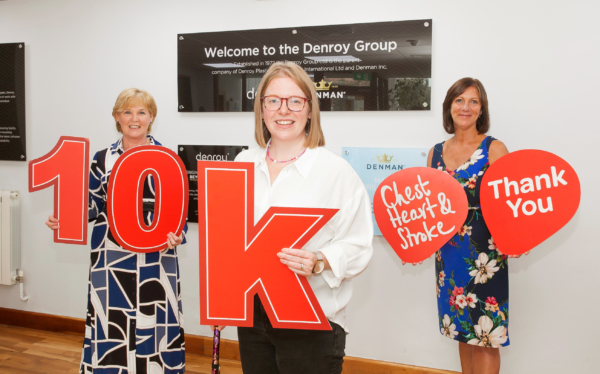 The Denroy Group has donated £10,000 to local health charity Northern Ireland Chest Heart & Stroke (NICHS).
The extremely kind donation was given in recognition of and to further support the charities Long COVID recovery programme.
Pauline Millar, Head of Service for Respiratory for NICHS commented;
"Our Long COVID Recovery Service is a one-of-a-kind programme and was officially launched in July 2020. It is currently the first and only support programme to help Long COVID sufferers here in Northern Ireland. With no funding this service is only possible thanks to supporters like The Denroy Group.
So far, we have supported 189 people suffering from long-COVID across Northern Ireland, but for us, that's not enough and our bespoke service is heavily in demand. We know so many more
people need our help and this generous donation will give us the opportunity to support more
people living with Long COVID."
Located in Bangor, The Denroy Group is one of the world's leading innovators of high-tech, critical components for the aerospace, medical and defence industries, and has been successfully running a state-of-the-art manufacturing operation with over 400 local employees for almost 50 years. They are also suppliers to their sister company, Denman, makers of the world's most iconic hairbrushes.
In March 2020 they repurposed their manufacturing for the Health Service in Northern Ireland, creating Denpro, a new brand to supply PPE to the health service and wider market.
Brenda Robinson from The Denroy Group says; "As part of our continual work to support the NHS and other charitable organisations throughout this pandemic, the Denroy Group are proud to be able to give a donation to Northern Ireland Chest Heart and Stroke. Long COVID is becoming more and more common throughout our community and we want to take this opportunity to create awareness for this life-changing disease".
"With the ongoing production of FFP3 masks, the Denroy Group is doing everything it can to help protect the health service staff against Covid-19. We would like to wish Northern Ireland Chest Heart and Stroke all the best in providing the much-needed support for those suffering with Long COVID".
Someone who unfortunately has had some experience of Long COVID is Denroy Director Trevor Kirkpatrick. Trevor's daughter Rebecca Logan is a 40-year-old busy mum of two who was working as a bank nurse and taught 12 fitness classes a week before she took ill with COVID-19 in April 2020.
Rebecca explains; "At first I became dizzy and lost my sense of taste and smell. The fatigue was horrendous, I developed joint pain and headaches, dizziness, brain fog and a lot more." Months later, Rebecca's symptoms were still ongoing. COVID became Long-COVID;

"I got breathless when I was tired. Some days I would wake up exhausted and the breathlessness would be there all day. The main thing was the pain and the fatigue. It was just awful."
Rebecca was one of the first people to participate in the Long COVID recovery pilot Service.
Rebecca commented "It was fantastic. We learnt breathing and relaxation techniques, and they got me into the habit of doing them regularly, which was really beneficial."
"It was great to talk to others who understood what you were going through, a relief to know that you weren't on your own. Up until then, nobody had really taken any interest, outside of close friends and family. The NICHS staff were always there, pointing me in the right direction"
"It's great to see The Denroy Group supporting NICHS and their Long COVID service and I hope that this donation helps them to support more people like me who are suffering with Long COVID."
If you, or a family member or friend, need support with managing Long COVID symptoms, please contact your GP or Health Professional who can make a referral to NICHS, or e-mail chestsupportni@nichs.org.uk