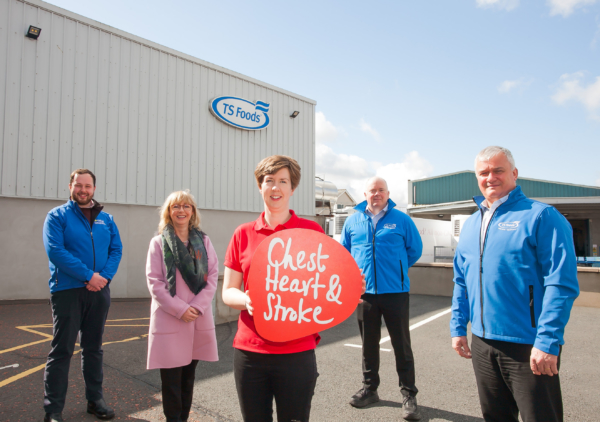 "Now more than ever our team's health and wellbeing are of crucial importance"
Local business, TS Foods in Castlewellan, had some serious concerns about the toll that the pandemic has taken on the physical and mental health of its employees.

Determined to make a positive change and to put staff health first, TS Foods signed up to Northern Ireland Chest Heart and Stroke's Work Well Live Well programme.
Work Well Live Well, a Public Health initiative, is a free health and wellbeing support service run by Northern Ireland Chest Heart and Stroke (NICHS). NICHS health professionals help to identify health risks in the workplace and work with you to create and deliver a bespoke action plan to help improve employee wellbeing.

Changes made through the plan can be as simple as greater access to healthy snacks or incentivised exercise, but the programme also concentrates on improving mental health and sleep, managing stress and reducing risk factors associated with heart disease.
Fidelma Carter, Director of Public Health at NICHS, explains; 'There's never been a more crucial time to check on your employee's health – the pandemic will have affected people, both mentally and physically, in ways you may not have considered. The average worker will spend almost 85,000 hours at work over the course of their career. It is vital that those hours are safe, happy and healthy.'
TS Foods are delighted to be participating in the Work Well, Live Well programme. Managing Director of TS Foods, Joanne Molloy says;

"When we heard about this initiative, we immediately recognised it would be a fantastic and timely opportunity to take a structured approach to improving the overall health and wellbeing of our employees.
The programme survey gathered valuable and honest feedback from our teams, enabling us to design an action plan based on what really matters to our staff, ensuring each person is equipped with the knowledge and tools to improve their mental and physical health."
HR Officer Veronica Crawford adds;
"We are very much look forward to progressing with the scheme and setting up a range of initiatives and fun activities for everyone to participate in. Now, more than ever, our team's health and wellbeing are of crucial importance and we are so pleased to have had the structure and guidance to make a real difference by engaging with the Work Well Live Well programme."
Ask yourself today - how well are your employees? Commit to improving the health and wellbeing of your staff today and register your workplace for Work Well Live Well.
Visit www.nichs.org.uk/workwelllivewell or email healthpromotion@nichs.org.uk