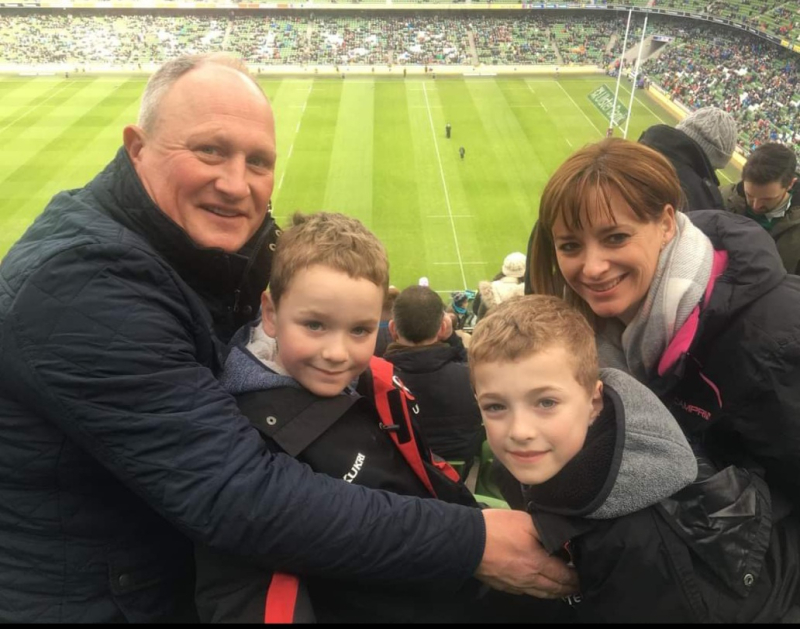 Malone Rugby Football Club Virtual Half Marathon
Created by Christopher Henry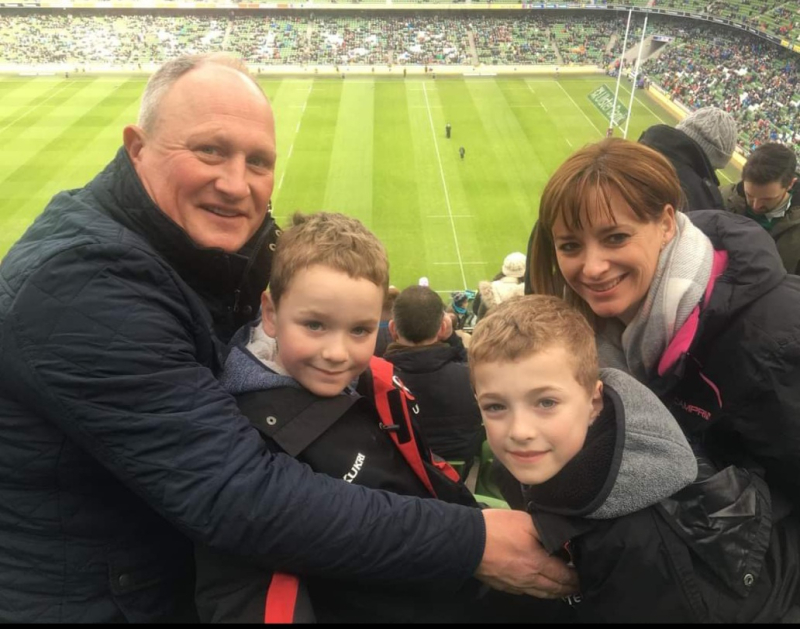 Date:
02/05/21 - 02/05/21
Story
On Sunday 2nd May members of Malone Rugby Football Club will be running a virtual half marathon in memory of former Club President and Chairman Patrick 'Chippy' Baird.
Chippy passed away suddenly in early December 2020 due to a hidden heart condition. He was involved with Malone for over 35 years and dedicated much of his life to making the club the progressive and inclusive place it is today.
30+ members from both the senior men's and ladies teams will be running 13.1 miles while many others are participating in a 5km run/walk. It is important to note that local government legislation on exercise during COVID-19 will be strictly adhered to including social distancing.
Chippy is survived by his loving wife Siona and 2 young boys Jamie and Ryan. This will be one of many tributes which will be organised to celebrate Chippy's life. We hope to raise vital funds for a fantastic charity which continually fund research into heart disease.
Share
286 Supporters
£20.00 + £5.00 Gift Aid

£25.00 + £6.25 Gift Aid

£10.00 + £2.50 Gift Aid

£20.00 + £5.00 Gift Aid

£20.00 + £5.00 Gift Aid

£200.00 + £50.00 Gift Aid

£20.00

£20.00 + £5.00 Gift Aid

£20.00 + £5.00 Gift Aid

£30.00 + £7.50 Gift Aid

£25.00 + £6.25 Gift Aid

£15.00 + £3.75 Gift Aid

£20.00 + £5.00 Gift Aid

£40.00 + £10.00 Gift Aid

£10.00

£20.00 + £5.00 Gift Aid

£50.00 + £12.50 Gift Aid

£50.00 + £12.50 Gift Aid

£250.00 + £62.50 Gift Aid

£25.00 + £6.25 Gift Aid

£100.00 + £25.00 Gift Aid

£50.00 + £12.50 Gift Aid

£100.00 + £25.00 Gift Aid

£20.00 + £5.00 Gift Aid

£20.00

£30.00 + £7.50 Gift Aid

£30.00 + £7.50 Gift Aid

£20.00

£30.00 + £7.50 Gift Aid

£20.00 + £5.00 Gift Aid

£10.00 + £2.50 Gift Aid

£100.00 + £25.00 Gift Aid

£25.00 + £6.25 Gift Aid

£10.00

£30.00 + £7.50 Gift Aid

£10.00 + £2.50 Gift Aid

£20.00 + £5.00 Gift Aid

£20.00 + £5.00 Gift Aid

£20.00

£10.00 + £2.50 Gift Aid

£10.00 + £2.50 Gift Aid

£10.00 + £2.50 Gift Aid

£10.00 + £2.50 Gift Aid

£10.00 + £2.50 Gift Aid

£20.00 + £5.00 Gift Aid

£10.00

£13.00 + £3.25 Gift Aid

£10.00 + £2.50 Gift Aid

£10.00

£30.00 + £7.50 Gift Aid

£20.00 + £5.00 Gift Aid

£10.00 + £2.50 Gift Aid

£10.00 + £2.50 Gift Aid

£25.00 + £6.25 Gift Aid

£50.00 + £12.50 Gift Aid

£30.00 + £7.50 Gift Aid

£40.00 + £10.00 Gift Aid

£10.00 + £2.50 Gift Aid

£50.00 + £12.50 Gift Aid

£20.00 + £5.00 Gift Aid

£50.00 + £12.50 Gift Aid

£10.00 + £2.50 Gift Aid

£10.00 + £2.50 Gift Aid

£20.00 + £5.00 Gift Aid

£100.00 + £25.00 Gift Aid

£30.00 + £7.50 Gift Aid

£100.00 + £25.00 Gift Aid

£10.00 + £2.50 Gift Aid

£5.00 + £1.25 Gift Aid

£10.00 + £2.50 Gift Aid

£20.00 + £5.00 Gift Aid

£10.00 + £2.50 Gift Aid

£10.00

£30.00

£10.00 + £2.50 Gift Aid

£25.00 + £6.25 Gift Aid

£10.00 + £2.50 Gift Aid

£20.00 + £5.00 Gift Aid

£10.00 + £2.50 Gift Aid

£20.00 + £5.00 Gift Aid

£80.00 + £20.00 Gift Aid

£20.00 + £5.00 Gift Aid

£10.00 + £2.50 Gift Aid

£75.00 + £18.75 Gift Aid

£25.00

£50.00 + £12.50 Gift Aid

£30.00 + £7.50 Gift Aid

£20.00 + £5.00 Gift Aid

£20.00 + £5.00 Gift Aid

£10.00

£20.00 + £5.00 Gift Aid

£15.00 + £3.75 Gift Aid

£20.00 + £5.00 Gift Aid

£20.00 + £5.00 Gift Aid

£50.00 + £12.50 Gift Aid

£250.00 + £62.50 Gift Aid

£50.00 + £12.50 Gift Aid

£10.00 + £2.50 Gift Aid

£20.00 + £5.00 Gift Aid

£20.00 + £5.00 Gift Aid

£40.00 + £10.00 Gift Aid

£20.00 + £5.00 Gift Aid

£20.00 + £5.00 Gift Aid

£20.00

£20.00

£10.00 + £2.50 Gift Aid

£10.00 + £2.50 Gift Aid

£20.00 + £5.00 Gift Aid

£30.00 + £7.50 Gift Aid

£10.00

£10.00 + £2.50 Gift Aid

£10.00

£10.00 + £2.50 Gift Aid

£10.00 + £2.50 Gift Aid

£15.00 + £3.75 Gift Aid

£20.00 + £5.00 Gift Aid

£10.00

£10.00 + £2.50 Gift Aid

£10.00 + £2.50 Gift Aid

£100.00

£5.00 + £1.25 Gift Aid

£20.00 + £5.00 Gift Aid

£20.00 + £5.00 Gift Aid

£6.00 + £1.50 Gift Aid

£6.00 + £1.50 Gift Aid

£5.00 + £1.25 Gift Aid

£50.00

£50.00 + £12.50 Gift Aid

£20.00 + £5.00 Gift Aid

£20.00 + £5.00 Gift Aid

£20.00 + £5.00 Gift Aid

£20.00

£10.00 + £2.50 Gift Aid

£20.00

£30.00

£20.00

£10.00

£10.00

£20.00 + £5.00 Gift Aid

£10.00 + £2.50 Gift Aid

£20.00

£150.00 + £37.50 Gift Aid

£10.00 + £2.50 Gift Aid

£20.00 + £5.00 Gift Aid

£50.00 + £12.50 Gift Aid

£40.00 + £10.00 Gift Aid

£20.00 + £5.00 Gift Aid

£30.00 + £7.50 Gift Aid

£20.00

£20.00 + £5.00 Gift Aid

£100.00 + £25.00 Gift Aid

£100.00 + £25.00 Gift Aid

£40.00 + £10.00 Gift Aid

£10.00 + £2.50 Gift Aid

£25.00 + £6.25 Gift Aid

£10.00 + £2.50 Gift Aid

£50.00 + £12.50 Gift Aid

£25.00 + £6.25 Gift Aid

£20.00

£50.00 + £12.50 Gift Aid

£5.00 + £1.25 Gift Aid

£30.00 + £7.50 Gift Aid

£20.00 + £5.00 Gift Aid

£20.00 + £5.00 Gift Aid

£10.00 + £2.50 Gift Aid

£10.00 + £2.50 Gift Aid

£25.00 + £6.25 Gift Aid

£20.00 + £5.00 Gift Aid

£30.00 + £7.50 Gift Aid

£30.00

£10.00 + £2.50 Gift Aid

£10.00 + £2.50 Gift Aid

£70.00

£20.00 + £5.00 Gift Aid

£20.00 + £5.00 Gift Aid

£20.00 + £5.00 Gift Aid

£100.00 + £25.00 Gift Aid

£10.00 + £2.50 Gift Aid

£40.00 + £10.00 Gift Aid

£20.00 + £5.00 Gift Aid

£5.00 + £1.25 Gift Aid

£30.00 + £7.50 Gift Aid

£10.00 + £2.50 Gift Aid

£20.00 + £5.00 Gift Aid

£10.00 + £2.50 Gift Aid

£10.00 + £2.50 Gift Aid

£10.00 + £2.50 Gift Aid

£50.00 + £12.50 Gift Aid

£20.00 + £5.00 Gift Aid

£100.00 + £25.00 Gift Aid

£10.00 + £2.50 Gift Aid

£20.00 + £5.00 Gift Aid

Shaun, Kathryn, Emily & Cameron

£50.00 + £12.50 Gift Aid

£50.00

£100.00

£40.00 + £10.00 Gift Aid

£10.00 + £2.50 Gift Aid

£20.00

£20.00 + £5.00 Gift Aid

£30.00 + £7.50 Gift Aid

£20.00 + £5.00 Gift Aid

£50.00 + £12.50 Gift Aid

£10.00 + £2.50 Gift Aid

£10.00 + £2.50 Gift Aid

£20.00 + £5.00 Gift Aid

£20.00 + £5.00 Gift Aid

£25.00 + £6.25 Gift Aid

£10.00

£30.00 + £7.50 Gift Aid

£20.00 + £5.00 Gift Aid

£10.00

£20.00

£50.00 + £12.50 Gift Aid

£20.00

£20.00

£20.00 + £5.00 Gift Aid

£25.00 + £6.25 Gift Aid

£10.00 + £2.50 Gift Aid

£20.00

£20.00 + £5.00 Gift Aid

£30.00 + £7.50 Gift Aid

£50.00 + £12.50 Gift Aid

£50.00 + £12.50 Gift Aid

£100.00 + £25.00 Gift Aid

£20.00 + £5.00 Gift Aid

£20.00 + £5.00 Gift Aid

£5.00 + £1.25 Gift Aid

£10.00

£20.00 + £5.00 Gift Aid

£20.00 + £5.00 Gift Aid

£20.00 + £5.00 Gift Aid

£30.00 + £7.50 Gift Aid

£20.00 + £5.00 Gift Aid

£50.00 + £12.50 Gift Aid

£40.00 + £10.00 Gift Aid

£15.00 + £3.75 Gift Aid

John and Christine russell

£40.00

£20.00 + £5.00 Gift Aid

£20.00 + £5.00 Gift Aid

£20.00 + £5.00 Gift Aid

£20.00 + £5.00 Gift Aid

£20.00 + £5.00 Gift Aid

£10.00 + £2.50 Gift Aid

£10.00 + £2.50 Gift Aid

£20.00 + £5.00 Gift Aid

£10.00

£50.00

£150.00 + £37.50 Gift Aid

£10.00 + £2.50 Gift Aid

£30.00

Colin and Mandy Bryans and Jean Thompson

£20.00 + £5.00 Gift Aid

£30.00 + £7.50 Gift Aid

£20.00 + £5.00 Gift Aid

£10.00 + £2.50 Gift Aid

£120.00 + £30.00 Gift Aid

£30.00 + £7.50 Gift Aid

£25.00 + £6.25 Gift Aid

£10.00 + £2.50 Gift Aid

£20.00 + £5.00 Gift Aid

£30.00 + £7.50 Gift Aid

£20.00 + £5.00 Gift Aid

£30.00 + £7.50 Gift Aid

£50.00 + £12.50 Gift Aid

£100.00 + £25.00 Gift Aid

£10.00 + £2.50 Gift Aid

£20.00 + £5.00 Gift Aid

£20.00 + £5.00 Gift Aid

£20.00 + £5.00 Gift Aid

£20.00 + £5.00 Gift Aid

£50.00 + £12.50 Gift Aid

£200.00

£35.00 + £8.75 Gift Aid

£50.00 + £12.50 Gift Aid

Darren, Karen & Ella Kidd

£50.00 + £12.50 Gift Aid

£20.00 + £5.00 Gift Aid

£30.00 + £7.50 Gift Aid

£35.00 + £8.75 Gift Aid

£20.00 + £5.00 Gift Aid

£10.00 + £2.50 Gift Aid

£50.00 + £12.50 Gift Aid

£35.00 + £8.75 Gift Aid

£25.00

£20.00

£40.00 + £10.00 Gift Aid

£10.00 + £2.50 Gift Aid

£100.00 + £25.00 Gift Aid

£50.00 + £12.50 Gift Aid