Your gift will help us give the Gift of Hope to those who need it…

for a better recovery through our physical rehabilitation programme,
to give support to the whole family through Family Support visits,
to help children learn about leading healthy, active lives so they can enjoy a healthier future through our school programmes,

to provide potentially life-saving health checks in areas of deprivation to detect early signs of illness,

for better laws to improve care and health policies right here in NI,

for breakthrough research that will lead to better cures and treatments for chest, heart and stroke illnesses.

To donate Text HOPENOW to 70450
Texts will cost the donation amount plus one standard network rate message, and you'll be opting into hearing more from us.
Read Pauline's Story below of how our Care and Support gave her the Gift of Hope following a life-changing stroke...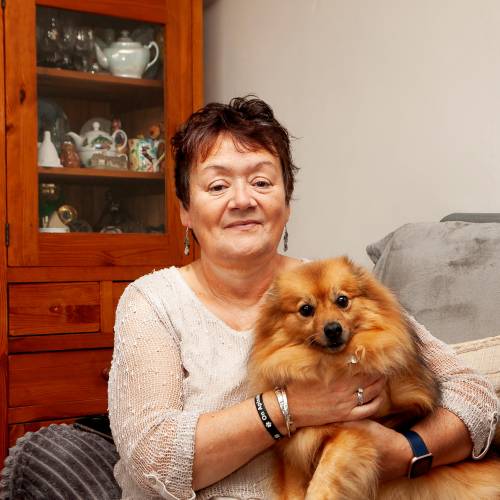 Pauline's Story
My name is Pauline Toner and I live in Newtownards.
When I was struck by a sudden stroke in June 2022, it turned my life upside down in a split second. I was only 58. It was horrific and devastating, not only for me, but for my loved ones too.

My stroke happened at 2am. My son Matt, who was at university in England, got the call. He told his mates, "The hospital has just phoned me and said my mum has had a bleed on the brain." He didn't realise how serious it was until one of his housemates, a paramedic, explained to him how grave the situation was.

For ten days in hospital, I was constantly sick, and I lost a stone in weight. I also developed sepsis and became very ill.
Matt said to me afterwards, "I thought I was going to have to plan your funeral." When you hear that coming from your 23-year-old, it's very hard. I know how upset he was. Hope was in very short supply.
That was when Northern Ireland Chest Heart and Stroke came into my life. When Dawn, my NICHS Family Support Co-ordinator, first came out to see me, I was in floods of tears telling her what I'd been through.

Dawn was so reassuring. She let me know about the services NICHS offered that could help me recover, like their Post Rehab Exercise Programme (PREP), which was an invaluable place for me to go and a Godsend for everyone who takes part. The physio-led programme has helped me improve so much physically, and I can feel the difference a year on. I also went along to the NICHS Young Stroke Group in Newtownards. I was nervous and frightened at first of joining the group as a newbie, when everyone else already knew one another. But week by week I opened up and shared my story with the others and started to feel that I belonged.

Dawn had given me the gift of hope.
My stroke left me with weakness down my right side. I have balance issues and often bump into things, and I've lost my peripheral vision, so I can't drive. It affected me cognitively too. I frequently stumble over my words and forget things, like my bank details. It's awful as I used to have a really sharp memory. I loved quizzes and even had the application form for The Chase on TV! But there's no way I could do something like that now.
The stroke really changed my life as I knew it overnight. I used to work with people with dementia and that's one thing I miss. It was a job I loved so much. I was at work one day, and in hospital the next. I never got to go back. That was difficult. It's hard to deal with those things - the parts of me the stroke stole away.

Recently we celebrated my son Matt finishing his Occupational Therapy degree with a First-Class Honours and getting a new job. One of my hopes is to walk into Coventry Cathedral without a stick for his graduation. Without NICHS, I might not have that precious glimmer of hope.

I can't speak highly enough of NICHS. I would have been lost without their support. Whatever you can afford to give, will be gratefully received by NICHS and people like me. Rest assured your gift will provide a lifeline of hope.



Just £10

will help pay for a life-changing visit from a NICHS Family Support Co-ordinator following a respiratory diagnosis, or after a heart attack or stroke; a time when families most need help and support.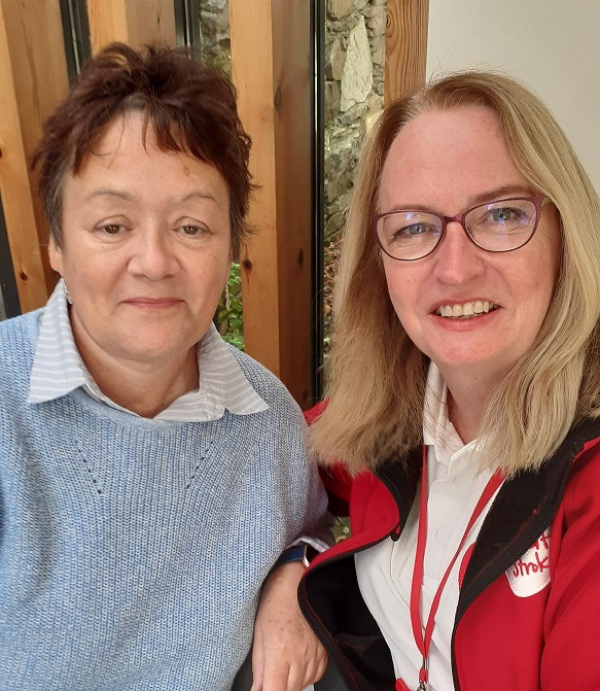 Can you help our Care Services Co-ordinators like Dawn to be there for people like Pauline during a very difficult and uncertain time in their lives?
The care services we provide support people from hospital, to home, right through to rehabilitation services which help rebuild lives.

When I first met Pauline during our Family Support Visit, she was completely shell shocked from her stroke and didn't know where to turn. Since then it has been an honour for me to have seen her through the PREP programme and to watch her flourish now as a volunteer and laughing with the new friends she has made


I find it really rewarding to see the progress made, and the light return to someone's life as they unwrap each piece of the NICHS package of support.

- Dawn Beckett, NICHS Care Services Co-ordinator
Help us to pass on the Gift of Hope to those who so desperately need it.
Almost 90% of our income comes from donations, so it's only thanks to our generous supporters the NICHS Care team can be here to pass on this gift.
Please donate what you can today to help change a life.
Thank you, and Happy Christmas!