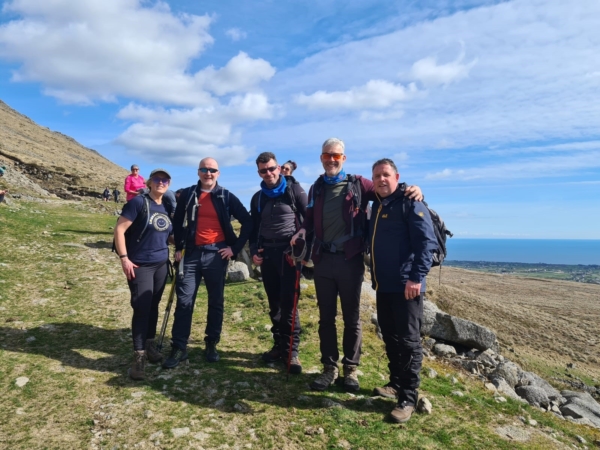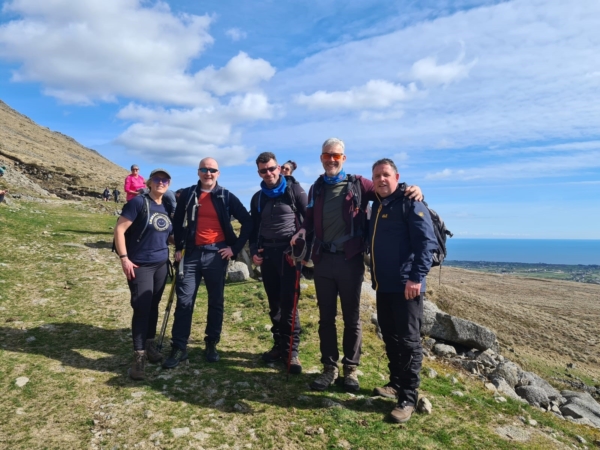 A group of six adventurous local hikers will be taking on a dizzying challenge this June, scaling all seven summits of the Mourne Mountains that are over 700 metres in just one day in aid of local charity, Northern Ireland Chest Heart and Stroke.
Amanda Johnston, from Drumbo, along with Declan Patton, Colm McCann, Cyril O'Riley, Oliver Short and Paul Mulholland, all of whom hail from the Mournes area near Newry, have decided to take on the daring personal challenge on Saturday 4th June 2022 to support the charity which is close to each of them for a variety of personal reasons.
Amanda Johnston is one of the six taking on the challenge in honour of loved ones affected by heart disease, as well as to push herself personally.
She says, "We were all regular hikers with Peak Adventure Hikes, so decided to band together and take on the challenge."
"The cause is very close to me personally. My dad suffered seven different heart attacks in his lifetime, and later died of a stroke. My sister was also born with a very rare, complex heart condition and is now in heart failure. Also, I lost eight and half stone a few years back, and ever since then I try to take on a new challenge every year."
Amanda acts as a guardian for her sister who also lives with schizophrenia and learning difficulties. Amanda explains, "When she was born, there were only around 42 people with her heart condition in Northern Ireland and they said she likely wouldn't live past childhood. I remember she had to have an operation in London back in the 1980s, it was a massive 14 or 15-hour surgery which many children with similar conditions didn't survive at the time. She's now in heart failure, which means there's quite a bit of caring for her, but she's a real fighter and against all odds has now seen her 50th birthday."
Amanda continues, "All of us in the group have different reasons for supporting NI Chest Heart and Stroke, and we're all terrified of the challenge ahead of us! But by fundraising for such a worthy cause, it motivates us and inspires us to keep going."
"As a group we are wanting to raise at least £1,000, and if we do, an amazing local business that I know of called Juggernaut Digital has said they will match fund the amount, which is just amazing."
In the run up to the challenge, Amanda and the rest of the group have been out training as much as possible for the gruelling 14 to 15-hour trek ahead of them, and Amanda has been sharing her progress on social media. "It helps to keep me accountable and plus it helps spread the word – helping us raise as much money as possible for Northern Ireland Chest Heart and Stroke!"
For Declan Patton, the challenge carries a multitude of meanings. After losing his father to a heart attack and cardiac arrest, Declan also suffered a heart attack himself three years ago at the age of 45.
Declan says, "I had no symptoms at all. I was having silent heart attacks without ever knowing for months before I was diagnosed. I had a stent put in but following that I had a horrendous year of where I was in and out of A&E constantly due to anxiety and worry."
Declan then got involved with a local men's group, where he caught the 'hiking bug'. "I have much less anxiety now. It was a turning point for my mental health and my general health. Since my heart attack, I've quit smoking and drinking like I used to, started exercising more and now I'm setting goals for my health. I've also tried to stop stressing less – to be honest, generally to be less like the person I was before my heart attack! It was a wakeup call – you look at things differently after it."
"It's brilliant to be supporting a local charity like Northern Ireland Chest Heart and Stroke as I have great respect for the work they do, which is so important. I really respect the research especially. If stents weren't here, I'd be dead."
"We aren't the most super fit group, we're a bit terrified if I'm honest! People are asking me if I'm mad taking on such a challenge, but we're trying our best and knowing it's all for a good cause for NI Chest Heart and Stroke will keep us going."
Declan also wants to share his message with others affected by heart illness. "It just takes one step to turn things around. For someone going through the same thing, coming from depression, anxiety, fear and in a dark place after a heart attack, to now doing the 'Seven Sevens' challenge, it's taken a long time to recover and get over it but now I'm shocked at what I can do when I challenge myself."
Fellow hiker, Colm McCann, is also taking on the challenge due to a close connection to heart illness, as his father had to undergo open heart surgery 53 years ago, when Colm was a child.
Colm says, "My father had his first open heart surgery at 31 and had his valves replaced with pig's valves. He had his second open heart surgery at 41 and got those valves replaced with titanium valves. I remember it well. I was in Primary 7. Our teacher and the class said prayers for him the morning of his operation."
"43 years later with the help of a defibrillator and pacemaker inside him, medication and check-ups at the Royal in Belfast, he's now 84 years young, still with us and smiling. A remarkable man who never complains about anything and always sees the glass half full."
With the cause so close to his own family, Colm was delighted to be able to give back to Northern Ireland Chest Heart and Stroke. "We all couldn't be representing a better charity," he says.
You can donate to the Peak Adventure Hikers group's Mournes 7 Summits Challenge online via their JustGiving page by going to www.justgiving.com/fundraising/peakadventurehikes7summitchallenge.
If you've been inspired by Amanda, Declan and Colm's stories and would like to find out more about the work of Northern Ireland Chest Heart and Stroke and how you can help, visit www.nichs.org.uk/how-you-can-help.