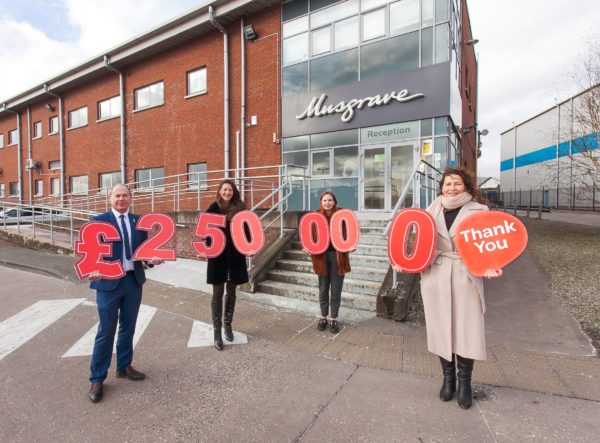 Local convenience brand MACE and leading health charity Northern Ireland Chest Heart & Stroke (NICHS) have proven the mantra that two heads really are better than one. Over the last 5 years, they have used their resourceful partnership to help rebuild the lives of thousands of local people living with cardiovascular and respiratory disease. In the last year alone, NICHS, with the support of MACE stores and customers across Northern Ireland, has provided life-changing services to over 3,300 local people. The partnership has gone from strength to strength and has ensured that, during the COVID-19 pandemic, local people have continued to receive the support they need. Partnerships like this prove the strength of collaboration and demonstrate the impact that can be made when a local business puts its weight behind a healthy cause.
You might ask, what do MACE and NICHS really have in common? Well, you'd be surprised. Both are Northern Irish, born and bred, and have been serving local communities for a combined total of 120 years. And, for both organisations, the emphasis really is on community. With such strong local ties, a partnership between MACE and the charity has proven a natural fit.
Claire Rea, Assistant Brand Manager at MACE, explains; "We wanted to work with NICHS, not only because they are an incredible charity that do a huge amount of work for people with chest, heart and stroke conditions, but also because they are a local charity working with local people. All the money raised goes straight back to local communities and as a brand, that's very important to us."
Jackie Trainor, Director of Income Generation at NICHS, affirms that "Great partnerships arise from likeminded organisations with similar, deeply instilled, core values and a common and clear goal. Great partnerships prosper with flexibility, ingenuity, and strong and honest relationships. MACE and NI Chest Heart and Stroke have established a great partnership, one that has gone from strength to strength, and has only continued to prosper, even during a pandemic."
Initially, MACE and NICHS embarked on a 3-year partnership. However, due to the success of the annual fundraising campaigns, MACE made the decision to extend the partnership, and it has only continued to thrive. To date, the fundraising events and activities reached a milestone £250,000; money that has gone straight back into helping keep local communities healthy.
Previous collaborative campaigns have included tackling issues like childhood obesity, raising awareness of undiagnosed Atrial Fibrillation and Stroke TIA (transient ischaemic attack), promoting the prevalence of heart attack in women and, since the start of the pandemic, Still Caring through COVID (2020/21). Campaigns are based on detailed NICHS health research and are aimed at raising awareness of chest, heart and strokes conditions, conditions that are responsible for the deaths of 16 people every day in Northern Ireland alone.
As the partnership embarks on its sixth year, Claire from MACE looks back fondly at some stand-out campaigns, in particular the Atrial Fibrillation (AF) campaign of 2019/20:
"There's a MACE in Lisnaskea, and I was there on one of the days that NICHS was testing [for AF] in store. The amount of people that came in to get checked was amazing. There were a lot of elderly people on the day – they knew that there was somewhere they could go that was just down the street for them and they could get properly checked out. That was an incredibly proud moment and that's when it hit home that you really are helping people that wouldn't automatically have any other support."
An independent enquiry, commissioned by NICHS, found that there could be over 10,000 people in Northern Ireland who have undiagnosed AF, a condition that can make your risk of a stroke five times higher. In 2019, NICHS conducted 4,660 AF checks and 148 individuals were signposted to their GP.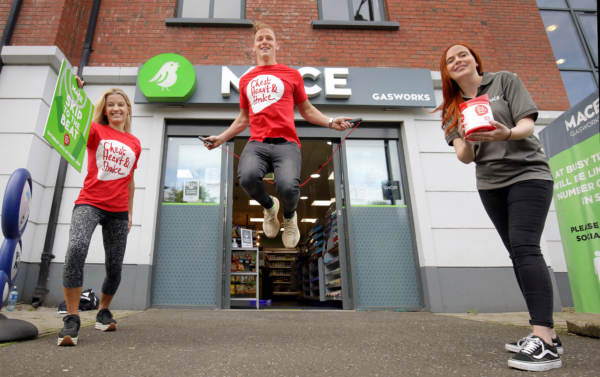 During the pandemic, both MACE and NICHS have both had to adapt and modify their services to keep meeting the needs of their local communities. Aware that traditional fundraising methods, like collection boxes, wouldn't be as widely used, both organisations recognised the need for some creative thinking. From this, 'Skip to the Beat' was born. The initiative, designed to be a virtual skipping event, was eagerly embraced by local schools including Gilnahirk Primary School; each child received a skipping rope, courtesy of MACE, making PE that little bit more fun!
Continuing to advocate for local people staying healthy and active into the new year, MACE proudly supports the upcoming NICHS Red Dress Run, this year taking place [virtually] on Sunday 21 February. The public are encouraged to dress in red and run 5km in their local area, while raising much-needed funds for the charity. Last February's run raised circa £22,000 for vital care and prevention services.
The latest MACE and NICHS collaboration is the 'Still Caring through COVID' campaign. With MACE's support, during the pandemic, NICHS has established a one-of-its-kind COVID Recovery Service, designed to help sufferers of long-COVID self-manage their condition. The charity has also adapted its care services during lockdown and has made 28,110 support calls – 98% of service users felt that the charity was there when they needed it the most.
Claire says, "Most recently, the 'Still Caring through COVID' campaign is definitely something that has made me very proud to be supporting NICHS. It's been a lifeline to so many people recovering through the illness, when maybe they've felt a bit alone or having left hospital haven't known where to turn. NI Chest Heart and Stroke has been really pulled together to bring support to people – it's been a stand-out moment for me. The charity has provided both mental and physical support to these local people."
When strong local organisations with similar community concerns, like MACE and NICHS, come together and stick together, the results speak for themselves.
If you've been inspired by the strength and impact of the MACE/ NICHS partnership and would like to learn more about partnering with NICHS, find out more at www.nichs.org.uk/corporate or contact corporate@nichs.org.uk.
Together we can help keep local hearts healthy.