"We have been absolutely blown away by the generosity of local people"
In February, Northern Ireland Chest Heart & Stroke hosted its first virtual version of the Red Dress Run, its annual fundraising event. Supported by MACE and traditionally held at Stormont, the charity adapted the event this year due to lockdown restrictions and encouraged the community to run or walk the 5km in their local area.

Over the last 12 weeks, donations have been flooding in and the charity is delighted to announce the final fundraising total as mere pennies under an impressive £50,000.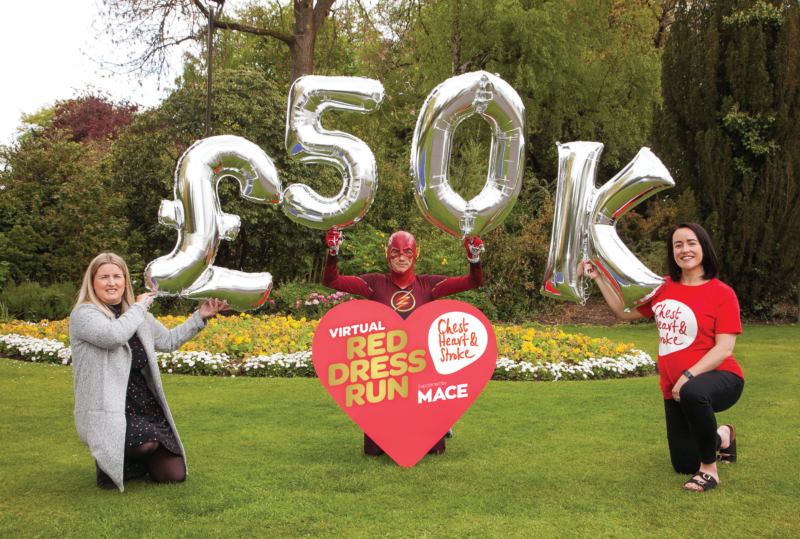 Jackie Trainor, Head of Income Generation at NICHS, says; 'The success of the virtual event this year has been tremendous. We have been blown away by the generosity of everyone who took part, and everyone who donated. With the pandemic, we were unsure about how this year would work out but, to say we are thrilled would be an understatement.'

Funds raised through the event will go directly towards developing the charity's cardiac services, which currently receive no statutory funding. The charity plans to restart its Walking Groups which are designed to encourage peer support for Cardiac Clients and re-establish cardiac rehabilitation in local community centres. What's more, it will launch a pilot Cardiac Education Programme, in partnership with the South Eastern Trust, which will deliver information, support and advice to people living with heart conditions.
This year's Red Dress Run has more than doubled its yearly fundraising target and the charity attributes this, not only to the phenomenal generosity of the participants, but also the inclusivity of the virtual model.
Jackie Trainor says, 'Being a virtual event, people took part from all over Northern Ireland, walking or running, at their own pace, in their own local area. Without the pressure of a big group event, even more people felt comfortable giving it a go! This year we even welcomed participants from England, and as far away as Singapore and America – something which has never happened before.'
Diane Anthony, Assistant Brand Manager at MACE, says: 'We are so proud to support NICHS, and this fantastic community event, for another year. Every penny raised is going to a fantastic cause, supporting local people with heart conditions. We are already looking forward to next year's Red Dress Run.'

NICHS has confirmed that in 2022, it intends to adopt a hybrid model for the event;
'We definitely missed the buzz and excitement of the Stormont event this year and are looking forward to getting back there next February. But, we also now recognise that there are people from further afield who will want to join in, so we do intend to continue the virtual element.'
'Almost 90% of NICHS's care and prevention services are funded by public donations and this year's event will go a long way towards supporting and caring for local people with heart disease. We would like to extend a big thank you to each and every person who donated or took part.'

To find out more about fundraising for NICHS, visit www.nichs.org.uk/how-you-can-help