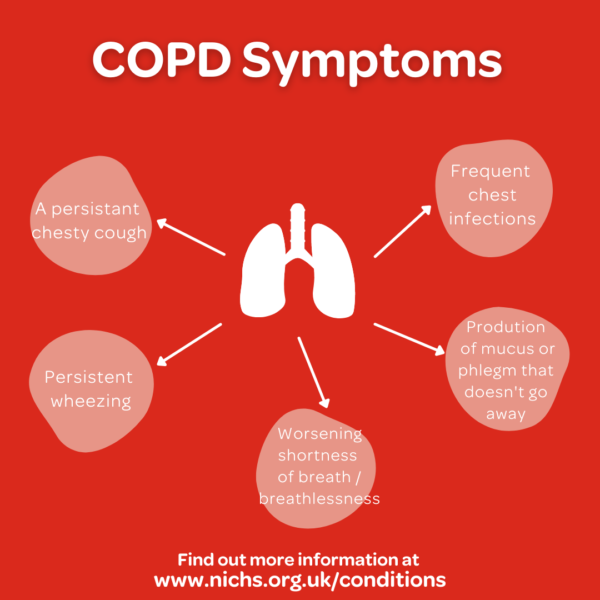 Leading local health charity, Northern Ireland Chest Heart & Stroke (NICHS), are using World COPD Day (17th November) to call on the public to educate themselves about the symptoms of COPD (Chronic Obstructive Pulmonary Disease).
Over 43,000 people in Northern Ireland are living with COPD. COPD occurs when the lungs become inflamed, damaged and narrowed. It is the name for a group of lung conditions that cause breathing difficulties including Chronic Bronchitis and Emphysema. COPD is usually associated with long-term exposure to irritants. In the majority of cases, smoking is the cause, however, occupational or environmental factors, such as dust or chemicals can also cause the condition. In a small number of cases COPD is associated with rare genetic problems which mean the lungs are more vulnerable to damage.
This World COPD Day, NI Chest Heart & Stroke want to highlight the symptoms of COPD to the public, so they can recognise if they may have a potential health issue and can seek further help and advice. Symptoms of COPD can include:
A persistent cough
Wheezing
Production of mucus or phlegm
Shortness of breath
Chest infections
NICHS are urging anyone who is experiencing these symptoms to contact a medical professional. Although COPD cannot be cured, its symptoms can be treated and in turn, quality of life can be improved. Furthermore, the chances of developing COPD can be significantly reduced by avoiding smoking and second-hand smoke. If someone already smokes, stopping can help prevent further damage to the lungs before troublesome symptoms occur.
NI Chest Heart & Stroke's Breathing Better service is here to help local people living with COPD. In 2020/21 the charity supported almost 450 people with chest conditions. The Breathing Better service brings individuals with respiratory conditions together as a group, creating a support network and providing a safe space for conversation. The service also helps people with COPD to learn how to exercise safely and to develop self-management skills to help improve their quality of life.
For more information on COPD and the support available from NI Chest Heart & Stroke, please visit https://nichs.org.uk/our-support-services/respiratory