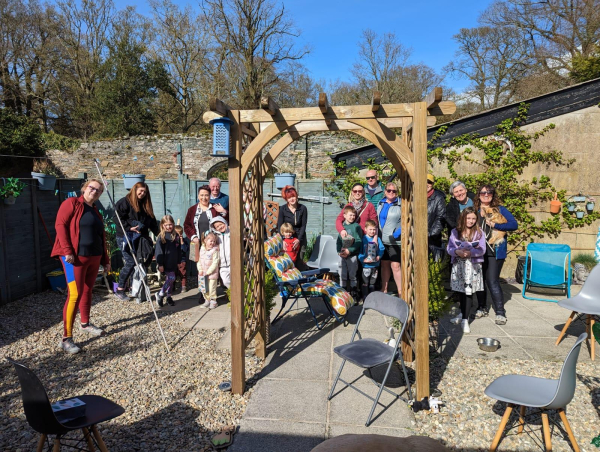 The UHub Therapy Centre based in Bangor has successfully put in place unique ways to improve staff health, including welcoming staff's furry friends, as part of the free workplace wellbeing programme, Work Well Live Well, delivered by Northern Ireland Chest Heart and Stroke (NICHS) and funded by the Public Health Agency (PHA).
In recent years, and particularly as a result of the COVID-19 pandemic, employee expectations for how their wellbeing is prioritised at work have increased. As a result, many organisations across all industries are making moves to adapt and find new ways to put employee health and wellness first. The UHub Therapy Centre is just one local organisation which has found the free Work Well Live programme has supported them to scale these hurdles.
The UHub Therapy Centre, founded by Pamela Kirkpatrick and Cara Swanston in 2016, signed up for the Work Well Live Well programme in 2021. The programme aims to help local workplaces improve their employees' health and wellbeing through personalised support. NICHS support organisations with carrying out a health and wellbeing survey, developing a bespoke 3-year action plan for their team as well as providing access to training, webinars, resources and networking opportunities.
Pamela Kirkpatrick, Clinical Manager and Co-founder of UHub, says, "At the time we were growing as an organisation. Pre-COVID, there was around five staff and a few volunteers. COVID kind of catapulted us into a bigger organisation. We had to go with that trend to keep the organisation vibrant and growing and to achieve everything we wanted to. A really important thing for us is supporting the counsellors that work in the centre. The Work Well Live Well programme came up and it was about supporting staff, so it just fitted."
"As part of the programme, we have put a fruit bowl in the kitchen, we have a cupboard full of spices and dry foods for staff to use as they please, and we brought in a slow-cooker so our kitchen is now much more welcoming. Now there are at least 3 days a week where there's cooked food in the office so people can come in and have what they like and eat healthily. We have invited staff to let their families share the space. The kids can come down into the kitchen after school, staff can bring their pets in – we've even had an African Grey parrot flying around! We go for walks together at least once or twice a month."
"It isn't like co-workers anymore, it is like a family. The Work Well Live Well programme has made workplace wellbeing part of our DNA and staff are so happy. The programme really gave us the template to create it, just at the right time."
Pamela speaks more about how the support her business has received from the Work Well Live Well programme in the latest episode of the "Be Inspired to Be" podcast available on Spotify at https://t.co/9hYqEwVfoM and Apple Podcasts at https://t.co/vJO5QNOzAn. The inspiring stories podcast was founded by Belinda O'Neill, a local best-selling author, creator, speaker, podcaster and educator. For more details visit: www.beinspiredtobe.com
To learn more about the Work Well Live Well programme and sign up your workplace for this health and wellbeing support initiative, visit www.nichs.org.uk/workwelllivewell.