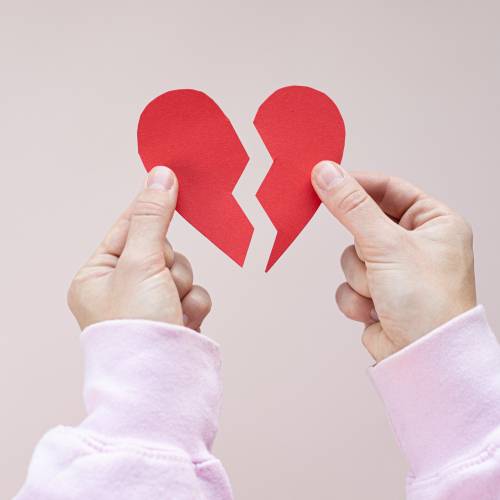 Heartbreaking
Coronary Heart Disease (CHD) is one of the leading causes of death in women, killing more than twice as many women as breast, cervix, uterus and ovary cancer combined in Northern Ireland. Awareness of women and heart disease remains understudied, underdiagnosed and under-treated however and the majority of women remain oblivious to their risk of heart disease.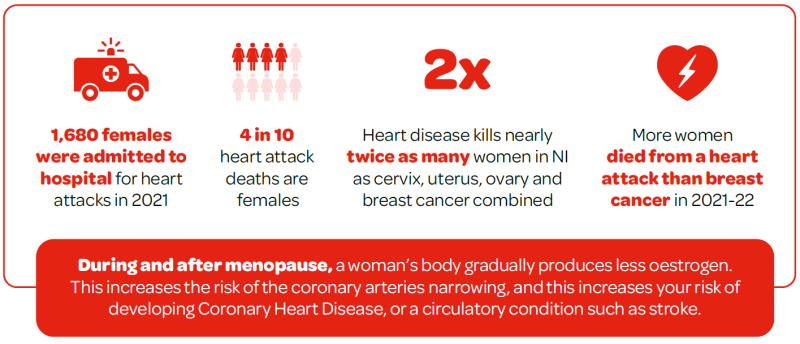 Often considered as a 'man's health issue', research* in recent years has revealed that women are dying needlessly from heart attacks, or not making as good a recovery as they could, because they don't receive the same care and treatment as men.
A woman is 50% more likely than a man to receive the wrong initial diagnosis for a heart attack.
Women are less likely than men to receive a number of potentially life-saving treatments in a timely manner following a heart attack.
Women are also less likely to be prescribed medications to help prevent a second heart attack.

Women in recovery from stroke, TIAs and heart attacks have a longer and less successful recovery journey from these illnesses due to often prioritising others' needs before their own.

The same report revealed that women having a heart attack delay seeking medical help longer than men because they don't recognise the symptoms.
As women get older it is also increasingly important to be aware of the risk factors that can make them susceptible to developing Coronary Heart Disease.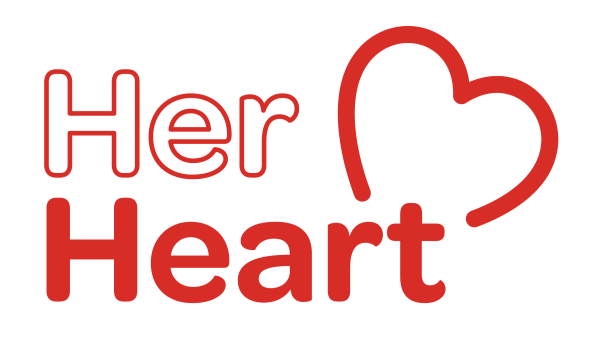 Our
Her Heart

Campaign

The danger heart disease poses to women is why we are launching our 'Her Heart' initiative.

We want to raise awareness of the prevalence of heart disease in women and promote prevention and self care.

Know the Signs
Heart attack symptoms vary from person to person, but often include:
❤️ Pain or discomfort in your chest that happens suddenly and doesn't go away;
❤️ Pain that spreads to your left or right arm, or to your neck, jaw, back or stomach;
❤️ Feeling sick, sweaty, light-headed or short of breath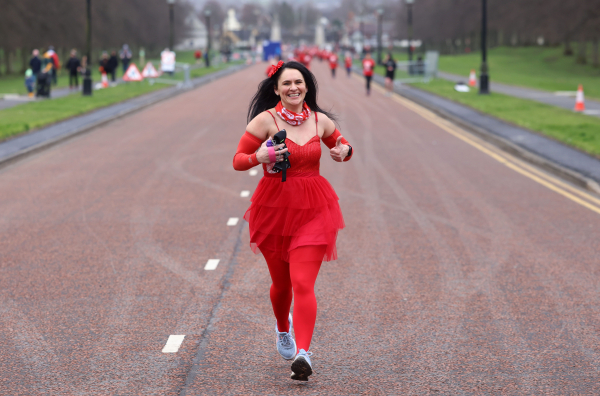 Know Your Risk
Common risk factors include:
❤️ High blood pressure
❤️ High cholesterol
❤️ Smoking
❤️ Diabetes
❤️ Being overweight
❤️ Not exercising enough

Stand Up for your Health
❤️ SCHEDULE regular Blood Pressure Checks
❤️ DON'T IGNORE symptoms – visit your GP
❤️ ASK QUESTIONS about your heart health
❤️ FAMILY HISTORY- if there is a history of cardiac issues make sure your GP knows