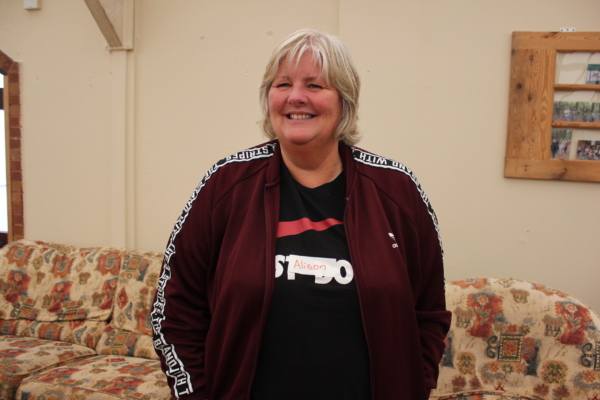 Alison McElveen was working as a teacher in Rathgael when she survived a stroke in May 2018. She had suffered mini strokes in the week before her stroke, but thought she was experiencing vertigo. "I asked the kids to be good for me, because I wasn't feeling well," she says.
The stroke
"On Wednesday I got up and I just wasn't feeling terribly right. But by Friday I couldn't get up." Alison called the out of hours doctor and was sent to A&E, where she received a brain scan. Alison wasn't in pain, and felt frustrated that staff kept asking her date of birth over and over to test her memory, as she could remember everything! After waiting all night, the next day she was told she had had a stroke and was sent to the Royal.
The stroke affected Alison's ability and balance, and she experience some paralysis on her right side. She was kept in hospital for two weeks. "I kept asking if I needed to be there, because I would go to the occupational therapist in the morning and then sit all day. I was really glad of the TVs because I watched quiz shows the whole time!" When she was finally allowed home, it was the day of the Royal Wedding – but Alison wasn't interested. "I just wanted to get home and watch football!"
While Alison was glad to get home, she felt maybe she'd left hospital too soon. She was set up with a care package and occupational therapy. "I couldn't turn over in bed, and I had to get help from the carers, such as getting washed. The carers were really nice, but I hated that. I couldn't wait to be able to do it myself."
Recovery
Alison attended a course of PREP with NICHS, and then another. "It was amazing the difference it made," she says. Being sporty and very competitive, she found the exercises were great for her and helped her to push herself and gain strength. It was the small things that stroke had taken away that Alison missed most – and so she worked hard and pushed herself, and over time, she has made leaps and bounds in her recovery.
"After 6 months, I went back to the consultant. They asked me who had tied my shoe laces that day. I said it was me – I could do it since I was three years old and I can do it now! The consultant couldn't believe how far I'd come."
Alison says, "I'm a believer in rewarding yourself, and my husband and I like to go on holidays. It gives you something to look forward to and I think the warmth and the water help a lot. When you're away, nobody knows you so you can practice and try things. At the start, my husband had to do everything for me. But the first time, I was able to get into the pool, and another time into the shower. I even served my own food at the buffet on holidays. It seems like such a small thing but I was saying to my husband, look! I served myself! And he understands what it means to me."
"My daughter also helped me with making healthy meals and buying healthy foods – no red traffic light labels are allowed!" Alison says, "And my dog, who was only a pup when I had a stroke, has been great. She jumps up at everyone but not me. She just lies at my feet or walks beside me, keeping a wee eye."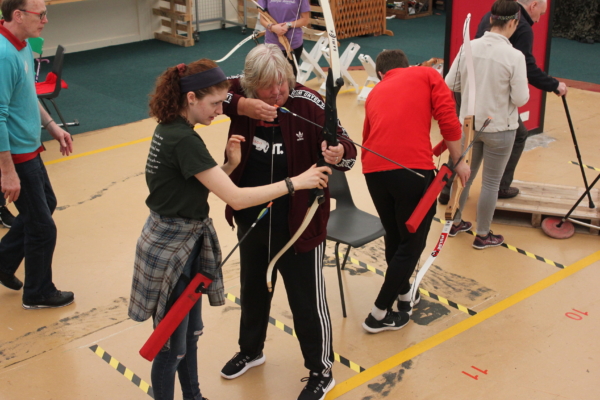 Life After Stroke
Alison says she can't believe what she can do now. "You feel tired in the morning, and I still have fatigue and could drop off during the day. But the carers used to get me up, and now I can get myself up. It's nice to have the company and people around to notice and say you look well. In the local shop, one of the staff said to me, 6 months ago you were coming in here with a stick, and now you can walk in yourself. It's so nice when someone notices you've improved."
She now attends the NICHS Ards and North Down Young Stroke Activity Group. "I go out nearly every day now," Alison says, "I go for a coffee, or shopping, or for lunch with friends, or to the stroke group." She also has big plans and goals for the future! "I can't teach now because of my fatigue, as I can't stand up for long. But I would like to get back to work, helping vulnerable young people to write CVs and things like that, even just for a few hours a week." Alison also aims to join the gym, and wants to play badminton again and get back to driving. And not least, she wants to go to Anfield to watch a match!
Alison is also taking on a 2 mile Sponsored Walk in aid of Northern Ireland Chest Heart and Stroke, to give something back to the Young Stroke Group.
"I don't want to be defined by my stroke. People say I'm an inspiration, but I just want to get on with life," Alison says. "It's all about accepting and enjoying the simple things. Each day there's something new!"