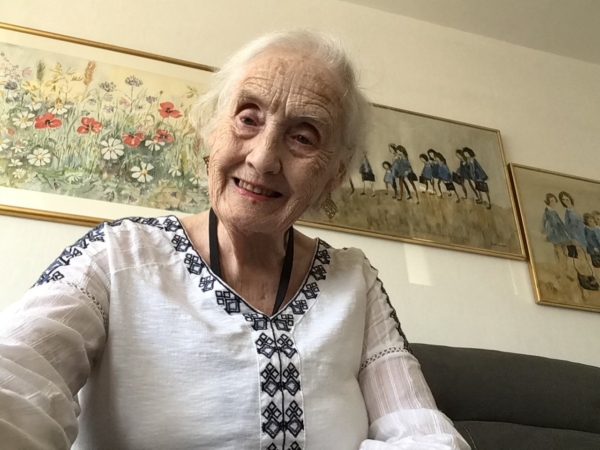 Erica Gioka, a retired art teacher from Newcastle, leads an active life visiting friends and family and swimming regularly at the local pool. Lockdown hit her hard.

'I live alone, since my husband died. The house is silent. And although I'm a positive person, I get desperately lonely. Before lockdown, I had a full schedule. I was driving into Belfast, here, there and everywhere! When lockdown came, there was just nothing.'
Erica has always suffered with a chronic cough and asthma. She was referred to NICHS by the South Eastern Trust Respiratory Team, joined her local 'Breathing Better' Respiratory support group and took part in their Taking Control Self-Management Programme before joining the online Inspire Choir.
'The pre-singing exercises at Choir really help your breathing - something I struggle with. Karen, our Choir Mistress, has trained us to sing several lines of a song in just one breath. It is amazing how much my breathing has improved.'
And for Erica, the benefits extend beyond the respiratory;
'The benefits are tremendous - I have a full list! The Choir helps my memory. It makes you feel like you belong to people who care about you. When you're lonely, it's lovely to have a person smiling at you. It relieves stress and if you are depressed, sad or in grief, it helps with that! It gives me so much pleasure and improves how I feel.'
'I look at my face before and after the sessions and I see the difference in my own face. My face had relaxed, my jaw is looser, and my eyes are brighter. I am a completely different me, like a new person, a rejuvenated person!'
Erica now looks forward to Inspire Choir, one of the highlights of her week;

'When I put the Choir Zoom on, I open all the doors in the house, so the music can travel to the furthest corners.'

'Our leader Karen has such an infectious personality. She is so positive and bright. She greets each one of us by name – it makes you feel quite special.'

'I mean, how can you have a glum face when Karen starts singing, "Show me the way to Amarillo…?!"

About the Inspire Choir
We established the 'Inspire Choir' in 2018. Originally, the choir began as a 10-week pilot to determine what positive effects singing could have on sufferers of long-term respiratory conditions but 3 years on, it is bigger and better than ever!

During lockdown, concerned about the mental and physical effects that shielding was having on our service users, we moved the choir online, doubled the rehearsals, and opened it up to all clients.
Pauline Millar, Head of Respiratory at NICHS, says; 'The results of the original pilot of our Inspire Choir were nothing short of inspiring. After just 10 weeks, 72% of choristers tested found that their speech had improved and 67% noted a boost in their mental health. Not only that, we saw considerable improvements in the group's sleeping, anxiety levels, chest tightness and ability to walk.'

'As well as improving lung function, we saw such social and mental health improvement. We knew then that the choir could provide a lifeline of support for our clients in lockdown.'
Pauline says; 'The improvement in some of our clients has been incredible. They have gone from being extremely breathless, depressed and lonely to coming along to choir with the biggest smiles on their faces.'
Find out more about our services here.