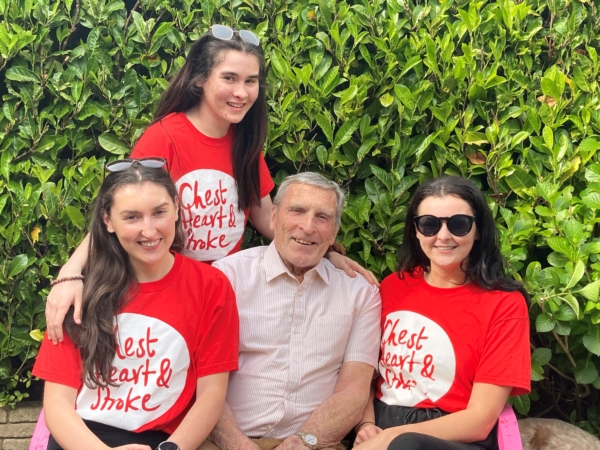 When John Gough from Andersonstown in Belfast had a stroke in his 80s and was left struggling to walk, he thought he would likely never recover. However, thanks to support from local charity Northern Ireland Chest Heart and Stroke (NICHS), John is healthier than ever and walking several kilometres every day!
John recalls experiencing his stroke 3 years ago. "Out of the blue, I felt I had a dead leg and had no control over my foot or my ankle. I was able to take a step, but my leg was totally dead. I went to the doctor and he told me I'd had a stroke and sent me straight up to the Royal."
"I was kept in for 10 days, most of which was taken up with rehabilitation and the physiotherapist getting me to be able to walk again and walk properly. At first, I couldn't walk very well at all, and I seemed to have no energy – I couldn't sustain walking or doing anything for very long."
When John got out of hospital, he was contacted by Northern Ireland Chest Heart and Stroke and went along to their PREP Programme.
PREP stands for Post Rehab Exercise Programme and is a service designed to provide additional support for stroke survivors after their statutory rehab has ended. Aimed at helping stroke survivors to rebuild their life and gain confidence following a stroke, PREP does this through a combination of education and physio-developed exercises.
John says, "PREP was brilliant. The NICHS staff and volunteers talked you through and walked you through all the exercises and encouraged you along the way. Although I found it difficult, I persevered and got through it. I even went back for a second round of 6 sessions. They provided instructions on exercises to do to improve my walking. I did all the exercises, I followed it to the letter, and then I started adding in my own exercises. I started to walk every day, not too far at first. Then I progressed and started to walk in the park."
"Over maybe about a year now, I've reached the point where I walk at least 3 or 4 kilometres every day – that's my target that I try to keep up. I try to get a longer walk in sometimes but the joy for me is that I can actually do it. Really my progress was all down to the encouragement those PREP sessions gave me and the information that I got from the volunteers and the staff. I put everything down to what was done then."
"I owe NI Chest Heart and Stroke a lot because in the early stages, you're at that age, and I thought maybe there's no way back for me. But there was, and it's the confidence from those sessions. NICHS gave me a pathway back, and I followed the path and I'm in a much better place now, I can get out I can go to the park or the beach and walk."
"It's also so important meeting other people who have been through it already – many of the volunteers at PREP had been through it themselves and were now recovered and helping out. Those people are really so important, taking you from a situation where you can't see a way through and you've maybe accepted that there's no way back, to opening up a road and creating a pathway for you, to see that other people have gone through it and achieved it."
"That the guidance was there, that the charity contacted you and took you through it, that somebody actually rang you at times to talk to you - it was hugely important."
John's family have also proved an invaluable source of support for him, and in light of his stroke and the support he received, his granddaughters have banded together to give something back.
John says, "My family have been very supportive, and my granddaughters, Maria, Andrea, and Catherine have been doing an awful lot for NICHS. They walked the distance of the Ring of Kerry and raised around £500 for the charity which was fantastic. Many people don't understand that the charity relies on donations, or the importance of the work the charity does, and so the girls wanted to give something back to help because I got so much out of it."
To find out more about Northern Ireland Chest Heart and Stroke's stroke support, visit https://nichs.org.uk/our-support-services/stroke or to find out more about how you can fundraise to help support the charity's work, visit https://nichs.org.uk/how-you-can-help.