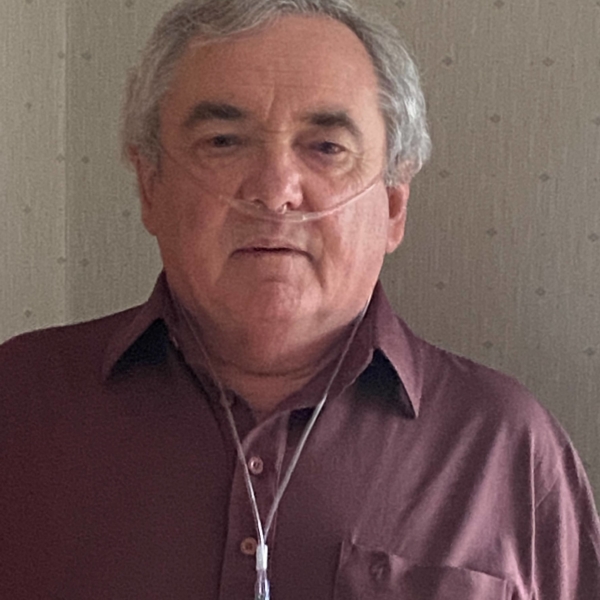 Raymond McCrory, 66 from Conlig, has suffered with emphysema for over 20 years. A motor mechanic by trade, Raymond's health pushed him to an early retirement.

'When you can't breathe, everything is a struggle. I'm on oxygen 24 hours a day. I can walk from the front door to the back door but that's about it. Every aspect of life is difficult – having a shower, drying yourself. But you learn to cope. I still get out in the car, make the odd dinner, wash the dishes. I do what I can.
Raymond joined NICHS's 'Breathing Better' Respiratory support group in Bangor and found out about the choir from other members of the group.
'When a few people in my group suggested I join the choir, I said – What!? I couldn't sing a note! I wouldn't go to a choir, I'd be putting everyone off!'

Finally persuaded to give it a chance, Raymond quickly noticed a considerable improvement in his breathing;
'It does help your breathing, no doubt about it. If you're trying to sing and trying to get the words out at the right time, taking a breath at the right time, it really helps! I can hold a note for longer. It's great exercise for your lungs. I know it's doing me good. I always feel better afterwards.'

Before lockdown, Raymond would meet friends twice a week for breakfast but while shielding, the choir became a social outlet;
'When they first talked about doing this Zoom thing, I thought – I wouldn't know how to work Zoom! But I've got into it now and I'd be lost without it. There are people in the Choir who wouldn't see anyone from one week to the next. The online Inspire Choir is the only contact they have.'

'For me, you get to see other people and have a bit of craic. It's something to look forward to. I've got the Inspire Choir on Tuesday and the Regional Breathing Better Meeting once a month on Wednesday.'
'I really look forward to Tuesday's Choir. You hear songs you haven't heard in a long time. It is so wonderful that it's there for us - it's a real lifesaver.'

About the Inspire Choir
We established the 'Inspire Choir' in 2018. Originally, the choir began as a 10-week pilot to determine what positive effects singing could have on sufferers of long-term respiratory conditions but 3 years on, it is bigger and better than ever!

During lockdown, concerned about the mental and physical effects that shielding was having on our service users, we moved the choir online, doubled the rehearsals, and opened it up to all clients.
Pauline Millar, Head of Respiratory at NICHS, says; 'The results of the original pilot of our Inspire Choir were nothing short of inspiring. After just 10 weeks, 72% of choristers tested found that their speech had improved and 67% noted a boost in their mental health. Not only that, we saw considerable improvements in the group's sleeping, anxiety levels, chest tightness and ability to walk.'

'As well as improving lung function, we saw such social and mental health improvement. We knew then that the choir could provide a lifeline of support for our clients in lockdown.'
Pauline says; 'The improvement in some of our clients has been incredible. They have gone from being extremely breathless, depressed and lonely to coming along to choir with the biggest smiles on their faces.'
Find out more about our services here.