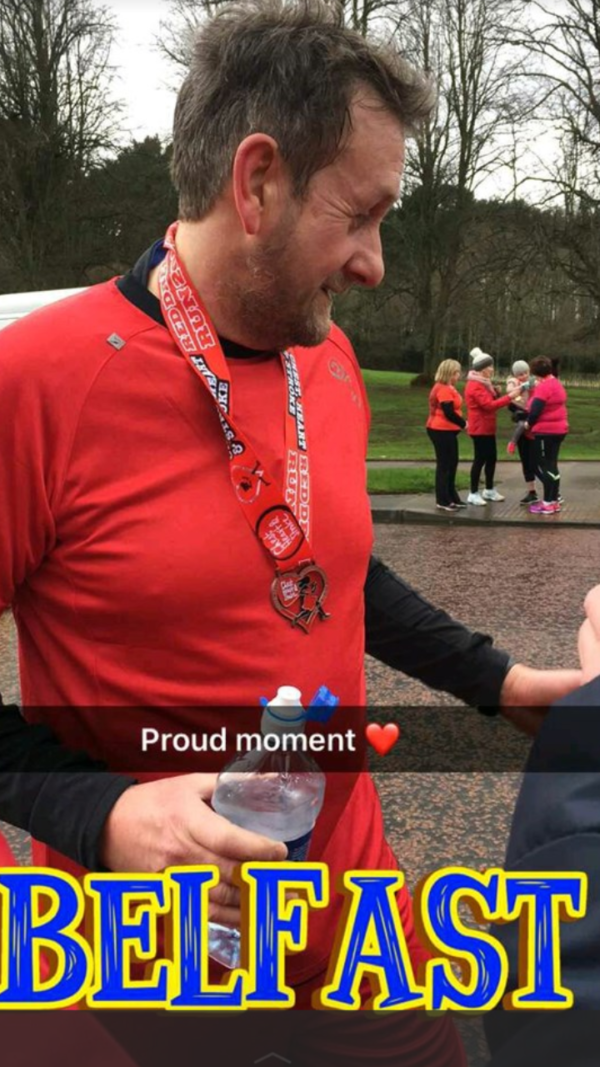 "In January 2016, I had a heart attack, albeit a fairly light one and had a stent fitted as a result. Even if you've been lucky like me, no one can lead a 'normal' life after a heart attack".
Trevor recognised that something had to change and this is when he decided to take up running to reduce his stress levels and to improve his overall health.
"I decided to take up running and recently ran Northern Ireland Chest Heart and Stroke's Red Dress Run. I run a couple of times a week now with my dog Oscar and regularly run 6 to 10k each time". Trevor has now signed up for numerous running events across the UK, proving to himself that he can change the future of his health. All whilst helping people currently living with chest, heart and stroke conditions by raising much needed funds for Northern Ireland Chest Heart and Stroke.
"I went to Edinburgh in May and completed the Gung-ho 5k Run with my daughter. I'm now starting to increase my running distance to gear myself up for the Ards Half Marathon in June. Oscar won't be running in either races as he'd only get in everyone else's way unfortunately".
Trevor's running success has helped him reduce his levels of stress and has improved his overall wellbeing! Trevor needs your help to achieve his fundraising target. Support Trevor by donating to his Just Giving page – https://www.justgiving.com/fundraising/Trevor-Gilmour1
Find out more about the cardiac support services that Northern Ireland Chest Heart and Stroke offer.