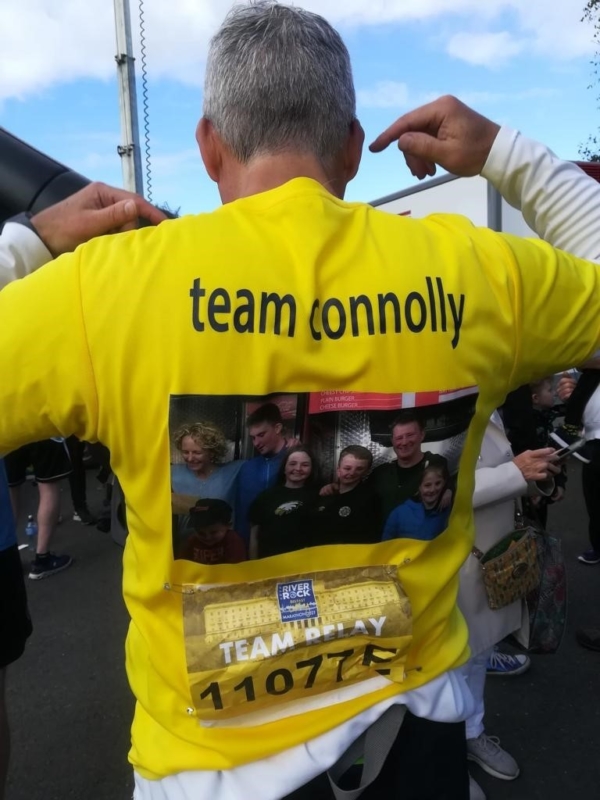 Team Connolly, a relay team made up of friends of Professor Declan Connolly, ran the 2021 Belfast City Marathon in remembrance of the much-loved Belfast man, raising £3073.20 for local health charity Northern Ireland Chest Heart & Stroke (NICHS).
This fantastic sum of money was raised in memory of Declan who passed away suddenly whilst on a skiing holiday in France in February 2020. Declan, who was from Belfast, was a valued member of the Sports Faculty at the University of Vermont where he was Professor of Physiology. Declan was regarded as an expert in the field of sports science, carrying out pioneering research and working with elite athletes from across the globe. He was also a published author having released a book on the subject of heart rate training for marathon runners.
Health and fitness was important to Declan who enjoyed both playing and coaching sport, as well as taking part in Ironman competitions. When he suddenly passed away due to a heart attack at just 55 years old it was a massive shock.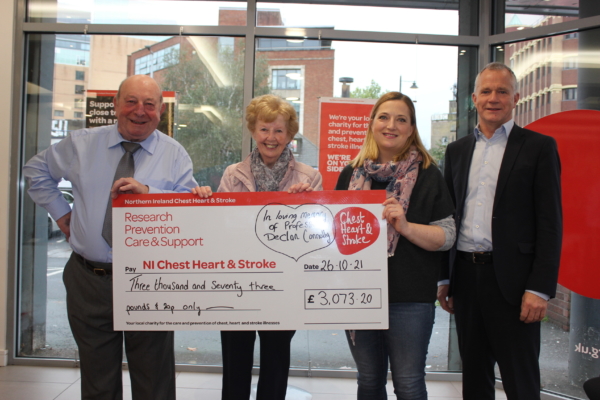 Team Connolly, made up of Aidan Donnelly, Michael Tucker, Greg Finnegan, Mo Cummings and Stephen Mulvenna, decided to run the Belfast City Marathon in honour of Declan and in aid of Northern Ireland Chest Heart & Stroke. The team wanted to give something back in Declan's name as well as support the charity with their work of raising awareness of, and trying to prevent, chest, heart and stroke illnesses in the local community.
Aidan Donnelly, friend and member of Team Connolly explains; "We had all competed in the race previously in other relay teams and it was Stephen who suggested that we should run this year in memory of Declan. We spoke to his wife Shannon and she was delighted with the idea. A couple of weeks before Marathon Sunday we realised that we could also turn this into a charity fundraiser and because of Declan's work the obvious choice was NICHS. We can't believe the total has reached over £3,000 in such a short space of time and we thank everyone who contributed from the bottom of our hearts."
Declan is survived by his parents Charlie and Geraldine, sister Nicola, brother James, wife Shannon and children Kiaran, Fiona, Cillian, Nuala, and Cian. Geraldine Connolly says; "It was such a lovely gesture. My husband Charlie and I have been overwhelmed by the generosity of Declan's friends and colleagues. There are so many people who have their own special memories of him and it's hard to believe that he is no longer here with us. He had such an affiliation with Northern Ireland Chest Heart & Stroke so it's fitting that this is the charity his friends chose to support by running the Belfast City Marathon."
Declan's sister Nicola Connolly adds; ""This is a fantastic achievement by Team Connolly, as they called themselves, and it means so much to us as his family that this was all done in memory of Declan."
On receiving the donation from Declan's family, Declan Cunnane, Chief Executive of Northern Ireland Chest Heart & Stroke commented; "Declan contributed so much through his teaching, research work and sports coaching and his passing, aged just 55, is deeply sad. We are very thankful to receive this money from the Connolly family in memory of Declan. It is important to remember that nearly 90% of NICHS's care, prevention and research services are funded exclusively by public donations. Fundraising efforts like Team Connolly's are vital in enabling us to continue to support the local community and provide life-changing services for people living with chest, heart and stroke conditions and their families."


To find out more about the many ways to help raise funds for Northern Ireland Chest Heart & Stroke, visit https://nichs.org.uk/how-you-can-help