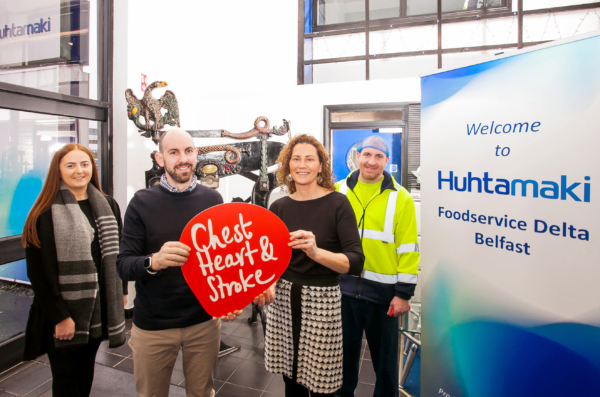 Huhtamaki Foodservice Belfast have announced their 2022 charity partner of the year will be local health charity Northern Ireland Chest Heart & Stroke (NICHS). Funds raised through the partnership will go towards supporting the 335,000 people living with a chest, heart or stroke illness in Northern Ireland.
Huhtamaki is a world-leading manufacturer of sustainable packaging, primarily for foodservice industries, with over 600 employees across two sites in West Belfast and Antrim. Sadly, the company lost a valued colleague, Patrick Hackett, last year to a heart attack and they decided to support the work of NICHS as a tribute to Patrick.
The company's fundraising target for the charity partnership has been set at a phenomenal £20,000. To achieve this, Huhtamaki employees plan to run a number of fundraising initiatives as well as take part in NICHS events including the Red Dress Fun Run, supported by MACE, at Stormont Estate on Sunday 27th February.
Christopher McMahon from Huhtamaki's Charity Committee says; "Everyone at Huhtamaki was deeply shocked and saddened when Patrick suddenly passed away due to a heart attack and the team wanted to do something in honour of Patrick. We hope to raise £20,000 for NICHS through a range of activities to help support the charity with their work of raising awareness of, and trying to prevent, chest, heart and stroke illnesses in Northern Ireland."
Regina Cox, Partnerships Manager at NICHS adds; "Patrick was a much-loved team member at Huhtamaki and his sudden passing from a heart attack is deeply sad. We are very thankful to have been chosen as Huhtamaki's charity partner for 2022 in memory of Patrick. Almost 90% of NICHS's care, prevention and research services are funded exclusively by public donations. The funds raised by Huhtamaki employees will be vital in enabling us to continue to support the local community and provide life-changing services for people living with chest, heart and stroke conditions and their families."
To find out more about ways to support Northern Ireland Chest Heart & Stroke, as a business or as an individual, visit https://nichs.org.uk/how-you-can-help