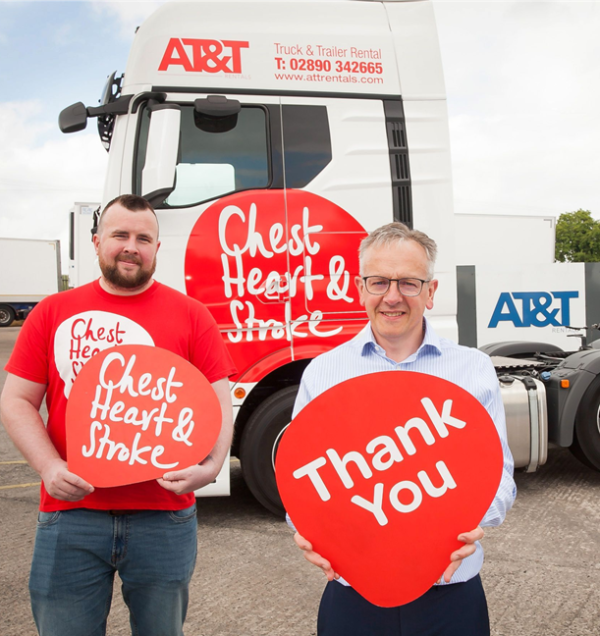 Local Mallusk business, AT&T Rentals, has made the commitment to donate a significant portion of its weekly rental income from the latest addition to its fleet to local health charity Northern Ireland Chest Heart & Stroke (NICHS).

AT&T Rentals, a family business, has specialised in truck and trailer hire throughout Northern Ireland for over 30 years. Recently the company elected to put NICHS forward as its charity of choice. The decision came after the untimely and devastating loss of one of their long-term employees, Norman Rankin, who passed suddenly of an undetected heart condition last October.

Tanya Joannides, HR Manager at AT&T Rentals, says; "Norman had been with the company for over 12 years. We are a tight-knit group here at AT&T and Norman was a key member of the team. He was a much-loved and respected colleague and looked up to by junior staff. He was a mentor and a role-model."
To honour Norman, the company has purchased a new MAN lorry and branded it with the charity's distinctive bright red logo. The lorry is to be named 'Rankin', as a memorial to Norman, recognising his contribution to the business.
Tanya says; "The loss of Norman shook the team to the core. It was important for us find a way to honour him and to remember him. NICHS was a charity that Norman had a lot of respect for, after his own father died of a heart attack. We chatted about it as a team and decided that this is what we wanted to do. It is what Norman would have wanted, to support the charity."

Jackie Trainor, Head of Income Generation at NICHS, says; "Almost 90% of our care services and research here at NICHS are funded by donations. We are so thankful to the generosity of local businesses, like AT&T Rentals."
"We are deeply saddened by the loss of Norman and our thoughts are with his partner Frances and son Phillip. But, it is our hope that funds raised through this new partnership could help to prevent a death like Norman's in the future."

To find out more about ways to support NICHS, as an individual or as a business, visit www.nichs.org.uk