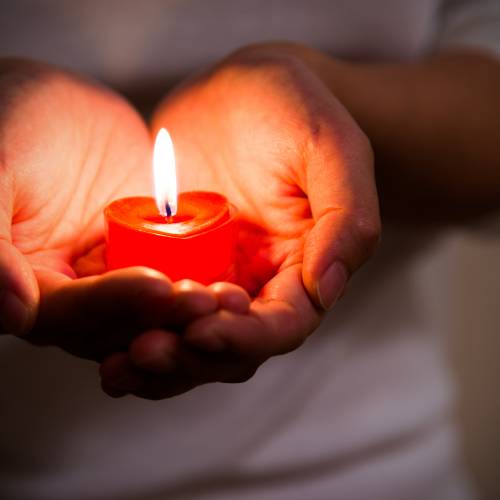 Rather than receiving funeral flowers, many people now prefer to ask family and friends to make a donation to charity when a loved one passes away, as a special way to pay tribute. This creates an ongoing legacy for the deceased, while offering much-needed support to local people still living with life-limiting illnesses such as chest, heart and stroke conditions.
How to donate in place of flowers
Supporting us through gifts in lieu of flowers is very straightforward and our Supporter Care Team is always on hand if you want to ask any questions. We know there are many other difficult decisions to make at this time so we're here to make sure donating is as straightforward as possible.
You can contact our Supporter Care Team on: (028) 9026 6743 for help and advice.
If you wish to request a donation in lieu of flowers via a family notice in the press, the following wording could be used:
Family flowers only, please. Donations in lieu, if desired, can be made payable to Northern Ireland Chest Heart & Stroke and posted to: NICHS, 21 Dublin Road, Belfast. BT2 7HB.
Donations can be sent to NICHS at the following address: FREEPOST, RSYK-LUTK-GTKJ, Northern Ireland Chest Heart & Stroke, 21 Dublin Road, Belfast, BT2 7HB.
Alternatively you can send your gift directly to us through our safe and secure online donation form. Please select 'In memory of a loved one' from the list of options so we can process and acknowledge your donation correctly.
A thank you for every gift
Everyone who makes a donation in memory of their loved one will receive a personal thank you from us, as long as we have their contact details. We'll also send the next-of-kin, or family representative, a monthly update on the total amount received. All the money we receive is used to support people in Northern Ireland.
Set up a regular donation
As a tribute to your loved one, you may also wish to consider setting up a regular monthly or annual gift. This will help us to continue to provide vital care services and fund innovative research to improve the care and treatment of chest, heart and stroke conditions, helping thousands of people throughout Northern Ireland and beyond.